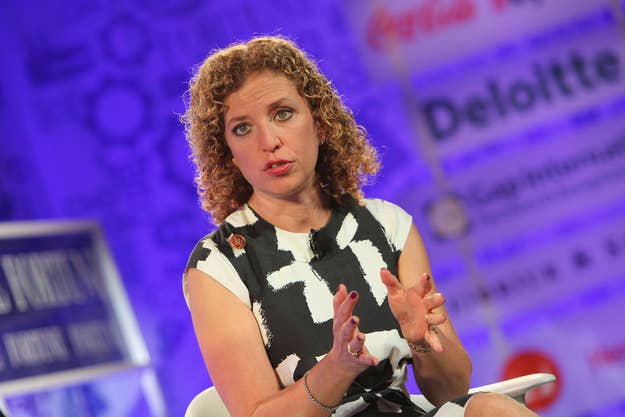 WASHINGTON — Democratic operatives working to bolster their party's numbers in the House say Democratic National Committee chair Debbie Wasserman Schultz set their efforts back when she said "I'm not going to confidently predict that Democrats will take the House back" in an interview with Politico last week.
"My candidates are calling and talking about the damage it did to the president's push for the House and the push Democratic members and candidates are making for 2014," said Democratic strategist working on House races.
Wasserman Schultz made the comments to Politico during an appearance with House Majority Whip Kevin McCarthy last week. The DNC chair, who is also a representative from Florida, said her party will "pick up seats," but wouldn't back the idea that Democrats could regain the majority they lost in 2010.
Most nonpartisan political prognosticators are predicting the Republicans will hang onto to control of the House. The Cook Political Report's Charlie Cook laid out the view at an American University event last month. "There's just not a lot of elasticity left in the House anymore," he said.
But as a piece of political rhetoric, consultants trying to elect more House Democrats said Wasserman Schultz' remarks are less than helpful to their cause. The conservative media seized on the remarks and consultants said they don't help much when it comes to raising money.
"It was an indelicate, inarticulate way to say that," said another operative working to elect House Democrats. "It forces you to underscore to donors the potential that exists and the opportunity that exists. If you look at retirements, there are many more Democratic pickup opportunities than Republican pickup opportunities. It's not a one-cycle deal."
A DNC official said Wasserman Schultz is committed to winning House races.
"The chair predicted that we would pick up seats in the House – and that's exactly we're going to do in November," said Michael Czin, DNC spokesperson. "The DNC constantly works with the DCCC, candidates and state parties to make sure they have the resources they need to pick up seats and take back the House."
Party chairs walk a difficult line when it comes to things like predicting electoral outcomes. While a cynic may expect them to simply say their party is definitely going to win every election they're participating in, right up until election day, observers say that can pose a credibility problem. On the other hand, saying an election is all but lost is potentially damaging to fundraising at a time when top donors are already turning their attention away from House races.
It's not the first time Wasserman Schultz has perhaps told it like it is only to get in trouble with fellow Democrats. Last year, after she was open about her own political ambitions and her belief that leading the DNC can help her further her personal goals, top Democrats accused her of making the DNC job "all about her."
The House campaign operatives aren't going as far in their criticisms this time. But they wish Wasserman Schultz had said something different last week.
"I think she's a good cheerleader for the party, and good for Democrats," one of the House campaign operatives said. "But this was not a particularly healthy thing to say or a particularly good way to say it."