O'Malley Flew Private Jet To Populist New Hampshire Campaign Swing
The former governor of Maryland regularly hops rides from a prominent backer and the husband to Fox News host Greta Van Susteren.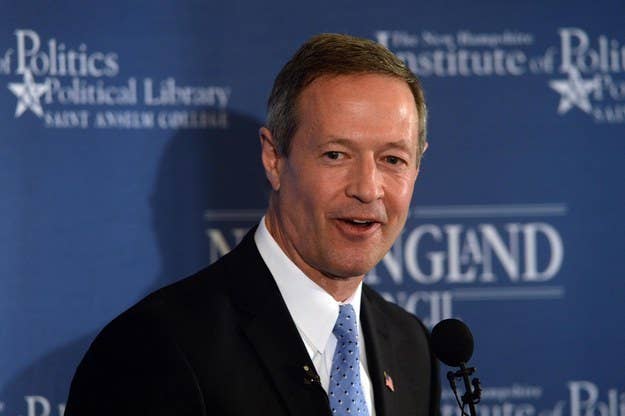 Martin O'Malley took a private jet to his most recent campaign swing in New Hampshire, an aide confirmed to BuzzFeed News Wednesday.
"Gov. O'Malley flies commercial often," Haley Morris, an O'Malley spokesperson, said in an email. "Sometimes for convenience, he flies private."
Wednesday was a day for convenience. O'Malley left Baltimore's airport at around 6:45 a.m. according to flight records, touching down in Manchester later that morning. Most of the rest of the BWI-Manchester traffic was from Southwest, which runs multiple nonstops between the two airports each day. In the past, O'Malley has regularly used the private jet owned by John Coale, a retired lawyer and the husband of Fox News host Greta Van Susteren.
In New Hampshire, O'Malley delivered more of the populist rhetoric that has marked his run-up to an expected official presidential campaign.
"O'Malley said Wednesday that many Americans living in cities are worse off than they were eight years ago and Democrats in Washington wasted a chance to address poverty in the nation's urban areas," according to an AP writeup of his remarks. O'Malley again condemned President Obama's trade agenda, praising Democrats in the Senate for temporarily blocking a vote on so-called fast track trade authority, which gives Congress only an up or down vote on trade deals negotiated by the White House. Progressive groups are adamantly opposed to fast track.
Wednesday's stops in New Hampshire marked the midpoint of a week where O'Malley has pushed hard for the activist left to move away from its continuing focus on convincing Elizabeth Warren to run and accept him as their champion. At a meeting with progressive leaders in New York on Monday first reported by Politico, O'Malley called on more than two dozen top progressives to embrace him as the public face of their 2016 messaging. The left hopes to at least pressure Hillary Clinton into adopting Warren-like policy stances on financial policy and income inequality.
Clinton has markedly reached out to the activist left with speeches promising new executive action on immigration if Congress doesn't act, a focus on changing the criminal justice system to send less nonviolent offenders in prison and a coy trade stance that puts her neither at odds with the White House or the left on fast track and other trade deals. Clinton's travel arrangements have also made news. After a much ballyhooed van trip from New York to Iowa for her first stops of her second run for the White House, the Wall Street Journal reported Clinton flew back to the east coast first class.