O'Malley's Latest Attempt At Gaining The Progressive Advantage: A College Debt Proposal
Once again, the former governor of Maryland is giving the left exactly what it wants. Will it be enough to move the needle against Bernie Sanders?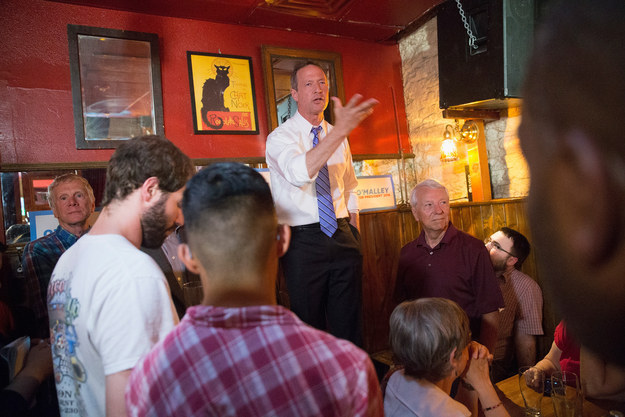 WASHINGTON — Martin O'Malley wants every student in America to have the chance at a debt-free college education, and on Wednesday he's rolling out a proposal he said can make that happen in five years. The plan draws heavily from O'Malley's time as governor of Maryland, as well as taps directly into the hottest policy debate in the progressive community in a way that's earning O'Malley praise from the left over Vermont Sen. Bernie Sanders.
It's the third time O'Malley has rolled out a policy agenda that's drawn accolades from the wonky end of the progressive movement. O'Malley's climate change agenda — based in a promise to end the use of fossil fuels over the next 35 years — was heralded by the left as the "standard" by which all other campaigns should be judged. After the shooting in Charleston, O'Malley was the only Democrat in the race to specifically call for a ban on assault weapons as part of a promise to make gun control a central focus on his campaign.
The college plan is another progressive hero moment for O'Malley. The aggressive plan focuses on turning public schools into hubs for low-cost, accessible higher education and spending federal dollars to make a college degree a debt-free prospect for anyone who wants one. O'Malley promises to trim the cost of college from multiple angles, urging schools to provide education for less money, redesigning how student financing works and using taxpayer funds to offset tuition increases and restore money slashed from education budgets by states.
Before it was even formally announced, progressives were heralding the plan as yet another liberal standard from O'Malley.
"Martin O'Malley's belief that debt-free college must be accessible to all students, and must apply to all public colleges and universities, is spot on and we look forward to seeing the plans of others," Adam Green, co-founder of PCCC — which is expected to announce its own debt-free college plan at the annual Netroots Nation progressive confab next week — told BuzzFeed News in an email.
Green said he hoped O'Malley's rivals will unveil plans that rival the former Maryland governor's. For now, the debt-free plan puts O'Malley in the progressive spotlight, even against Sanders.
"To her credit, Hillary Clinton has mentioned debt-free college multiple times on the campaign trail, and Americans await a bold policy speech on debt-free college in the near future," Green said. "We hope Bernie Sanders and others endorse this game changing goal of debt-free college as well."
O'Malley's college plan is smart politics as he tries to overcome terrible poll numbers and beat out Sanders become the progressive standard-bearer against Democratic frontrunner and former Secretary of State Hillary Clinton. The goal of debt-free college education, once a pie-in-the-sky progressive aim on par with single-payer health care or the effective end of fossil-fuel consumption, is likely to be a main plank Democratic education platforms in 2016. The Journal of Higher Education cataloged the phenomenon last month, noting progressive thinktank Demos and the Progressive Change Campaign Committee have been leading the effort to make presidential candiates believe cheaper higher education equals millenial votes. Sanders has proposed making public education tuition-free, an expensive prospect even progressives have dismissed as untenable. Clinton has signalled her interest in debt-free college and is expected to announce her plan soon.
Supporters noted that O'Malley's plan is already drawing attacks from Republicans. According to New Hampshire reporter Paul Steinhauser, Jeb Bush dismissed it as "more free stuff' on the trail Wednesday.
O'Malley has a personal story to tell when it comes to college debt that also separates him from the field. He and his wife, Katie, are carrying an eye-popping college debt of his own, in the form of federal loans taken to fund the college educations of his two daughters who only recently graduated college. Grace, 24, attended Georgetown and Tara, 23, the College Of Charleston. (O'Malley has two sons, Jack, 12, and William, 17, who have yet to start needing college tuition.) The total debt carried by O'Malley and his wife to pay for their daughters' education is $339,200, spread over nine loans. Eight loans come from the still-active government-backed Direct Parent Plus program and one comes from the old Federal Family Education Loan Program ended in 2010. The interest rate on the loans range from 6.16% to 8.5%.
That's a lot of federal college loans for a family to carry.
"That figure is high," Mark Kantrowitz, Publisher of Edvisors.com told BuzzFeed News in an email. "Six-figure Federal Parent PLUS loan debt is just as rare as six-figure student loan debt. Less than 1% of parents take on that much debt."
Kantrowitz said a parent debt load of that size reflects a family choosing to pay for college solely through parent loans instead of combining the debt load with Stafford loans carried by the student. It's also due to the higher-than-average cost it takes to send a student to a school like Georgetown or pay out-of-state tuition at a prominent public school like the College of Charleston. It's not a common debt, but O'Malley said it reflects the situation of many families facing college costs, albeit through the uncommon path of a former two-term governor.
Many families choose to use a home equity line for loans as large as the O'Malleys. But that was not an option for the former first family of Maryland.
"In our case, given the unique circumstances of my public service over the last eight years, we had no home. We sold our home like eight years ago," O'Malley told BuzzFeed News in a phone interview from Providence, Rhode Island, where O'Malley was raising money before heading back to New Hampshire for more campaigning.
"So as we were looking at this, this was the route that we chose to go in terms of financing this," O'Malley said. "Not unlike a lot of other families, we've invested most of what we have in our kids. And we're going to continue to do that and be paying off these loans for many years to come, please God, if we're healthy enough to continue to earn."
With his personal experience when it comes to college costs and the political window for attacks on college costs wide open, O'Malley's plan is an ambitious one: His goal is to create debt-free higher education for all in-state students at public colleges and universities in five years. The implementation is half presidential bully pulpit and half government spending: O'Malley wants all states to freeze tuition and restore slashed education budgets, in part with a federal dollar-for-dollar matching program that would help states put more money into higher ed.
The plan would likely not have a direct effect on his own loans, which went to pay for educations at an expensive private university and for an out-of-state student at a state school. In the interview, O'Malley said his plan will still allow parents and students to choose more expensive schools if they feel the debt is worth it.
But O'Malley wants schools to do their part to make education cheaper as well. His plan calls on state schools to create new education programs that cut costs, and create credit hours that can be carried from school to school, a program based he said on his efforts to reduce higher education costs in Maryland.
"I'm the one candidate in our party who's actually done this on a state basis," O'Malley said. "It wasn't by waving a magic wand, it was by making the investment and it was by partnering with our institutions of higher education on things like course redesign and more blended learning approaches."
The tweaks O'Malley proposes begin at the high school level.
"There are states that are really moving out and moving forward in dual enrollment, so that more high school seniors graduate with college credit…Aligning college readiness so kids aren't put into tons of remedial classes racking up more expense," he said. "I'm talking about also doing more for those returning students, moms and dads who may need more access to childcare in order to complete their degree. This is a bit of an ecosystem and it requires collaboration across those three public institutions, state, federal, and university."
The eventual aim: tuition at four-year state schools that is10% of state median income (5% for two-year schools). Expansion of work study programs and pell grants will cover non-tuition costs under O'Malley's five-year proposal. O'Malley isn't discussing how to pay for his education plans yet, but his campaign's deputy policy director, Kalen Pruss, told BuzzFeed News O'Malley will be more specific about the costs and the funding he plans for them as his programs are revealed. O'Malley has favored higher taxes on the wealthy throughout his campaign.
The reduced costs and widespread availability of a debt-free college education will boost graduation rates, O'Malley said. His plan calls for a 25% increase in the college completion rate using federal dollars to incentivize schools that find ways to get more of their students finished in two or four years.
But after watching his progressive plans for the environment and gun control — not to mention his vocal opposition President Obama's trade agenda and promise to separate money from politics — fail to result in the big crowds Sanders enjoys, does the college plan have what it takes to finally get the left excited about O'Malley's presidential bid?
O'Malley took only subtle shots at Clinton and Sanders in the interview, his general tack on the trail since he kicked off his campaign. He insisted that, eventually, the supporters he needs to make a dent in Clinton's poll numbers will come. Sanders is a self-described Democratic Socialist, and has so far failed to expand his support base beyond white liberals. Asked directly if Sanders could ever win the presidency, O'Malley fell back on his standard talking points.
"Look, that's...look, that's a decision that will be up to the people to make," O'Malley said. "For my part, I have ideas to offer, I have 15 years of executive experience and a very strong record for having not only progressive values but setting progressive goals and getting things done. So at the end of the day, it's going to be up to the people of our party to decide who they wish to nominate. But the office is for chief executive and I believe that in the fullness of time, those skills… is what's going to matter most to people who attend their caucus or when they vote in the New Hampshire primary."