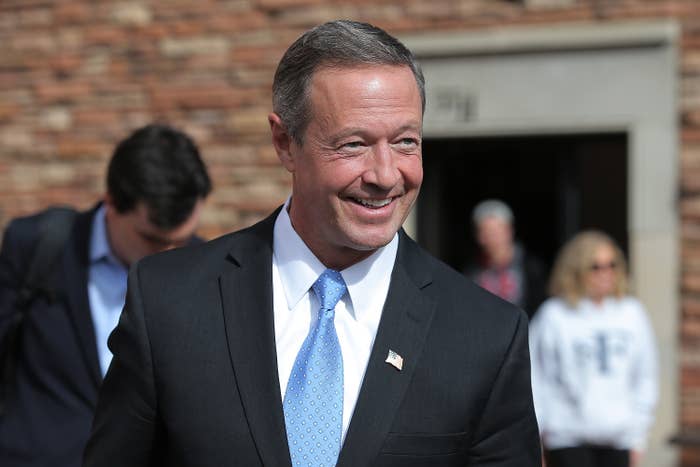 WASHINGTON — Martin O'Malley said on Sunday that Bernie Sanders needs to stop "rewriting history" about the 2012 presidential campaign and his criticism of the president

"The reelection of the president was actually a harder election than the first one, and a time that we needed people to rally and get up for the battle at hand. And that's what I did," O'Malley said in a phone interview with BuzzFeed News from Las Vegas, where Sanders and O'Malley are both courting the Latino vote at an immigration policy forum. "At the same time, Sen. Sanders was trying to get someone to primary the president."
"In early 2012, there were a lot of Democrats who didn't have the president's back when he needed them the most. But I was not one of those, unlike Sen. Sanders, who criticized him from the sidelines or went trawling around trying to find someone to primary him," O'Malley said. "I don't believe that Sen. Sanders should be allowed to rewrite history."
O'Malley is courting something else too, these days: better standing in the polls. The former Maryland governor has struggled to move the needle with supporters and in fundraising. To that end, he's taking the gloves off even more, beginning what he called "the compare and contrast" phase of his campaign where he pledged to be "highlight the differences" between Sanders, Democratic frontrunner Hillary Clinton, and his own campaign.
"It would be irresponsible for me not to point out those differences," O'Malley said. "Frankly, it's those differences that make my candidacy more compelling than the other two."
In Vegas, O'Malley tried to convince Latino voters that he was their real ally, while the other two candidates tried to court them with "poll-tested triangulation and half-truths" when it came to immigration and other issues.
O'Malley has been been happy to point out his age difference with his opponents right from the start of his candidacy, and his campaign has aggressively taken on Clinton and Sanders right along. But in recent days, O'Malley has been quicker to call out his opponents by name.
On Friday, O'Malley went after Sanders for his 2011 criticisms of Obama, which included endorsing the idea of a progressive primary opponent to take on the incumbent Democrat. Sanders rebuffed the attack, telling reporters the day after that he "vigorously" supported the president. The history shows Sanders was more critical of Obama during the reelect than many other Democratic surrogates — including O'Malley, who campaigned regularly for Obama in 2012 after supporting Clinton in the 2008 primary fight.
Asked about O'Malley's comments, Sanders strategist Michael Briggs dismissed the idea that his boss was anything less than an Obama booster.
"The fact is that Bernie was a strong supporter of President Obama in 2008 and 2012," Briggs told BuzzFeed News in an email.
The Sanders attack is just one of many rhetorical jabs O'Malley is rolling out ahead of this week's second Democratic presidential debate, Saturday in Des Moines, Iowa. Asked if he was going negative, he said Democratic voters need to know there are big differences between their three remaining choices for nominee.
"I know that there's always a desire by some to turn these contests into some sort of cage fight. That's not what this has to be," O'Malley said. "Look, this is very, very important business. This is the most important office in the land and on the planet. And so voters deserve to hear from us in debates, the expect us to do our duty to describe and explain our differences. That's what you have a responsibility to do as a candidate."