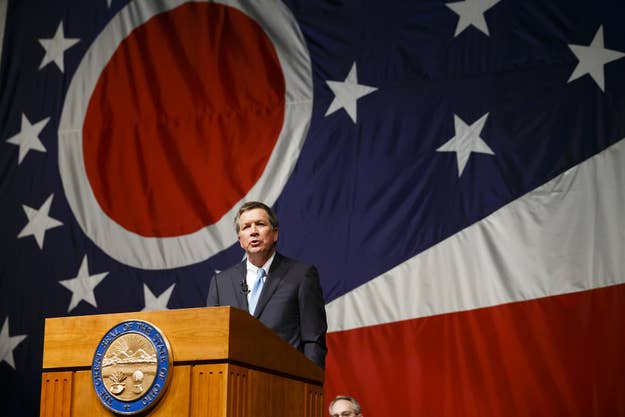 Ohio Republican Gov. John Kasich said he favored civil unions in an interview published Thursday morning, but by Thursday afternoon his spokesman said otherwise.
"He may have used the term 'civil union' loosely in this instance," Kasich spokesperson Rob Nichols said in a statement sent to BuzzFeed.
"The governor's position is unchanged. He opposes gay marriage and opposes changing Ohio's Constitution to allow for civil unions," said Nichols. "He's opposed to discrimination against any Ohioan and, while he may have used the term 'civil union' loosely in this instance, he recognizes the existing rights of Ohioans to enter into private contracts to manage their personal property and health care issues."
Kasich had been asked about Ohio Sen. Rob Portman's recent conversion on same-sex marriage in an interview with Scripps published Thursday morning. Although he doesn't join Portman in supporting marriage rights for same-sex couples, he said he was "for" civil unions:
Kasich was asked if he could imagine a situation that might cause him to change his position.

"I really can't see one, I mean, I talked to Rob and encouraged him," Kasich said. "If people want to have civil unions and have some way to transfer their resources, I'm for that. I don't support gay marriage. "

"I've got friends that are gay and I've told them 'Look, (same sex marriage) is just not something I agree with' and I'm not doing it out of a sense of anger or judgment, it's just my opinion on this issue. "

"I just think marriage is between a man and a woman, but if you want to have a civil union that's fine with me," Kasich said.
Civil unions, like same-sex marriage, have been banned by Ohio's constitution since 2004. Marriage equality supporters are hoping to change that with a ballot initiative this fall.
"I hope Gov. Kasich understands civil unions are banned by the Ohio Constitution as well and they are a cruel substitute for legal marriage," Ian James, a leader of the marriage equality group FreedomOhio told Cincinnati's CityBeat.