Officials Say "No Individuals Or Companies" Have Yet Been Selected For Sanctions Over Ukraine
Visas have been pulled, but the Obama administration is still figuring out who to hit with economic sanctions.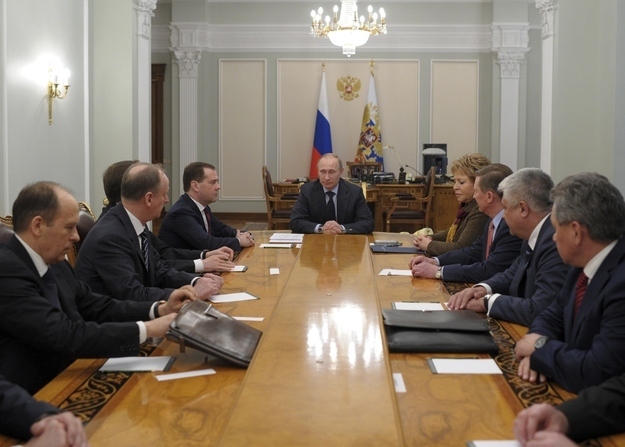 WASHINGTON — Senior Obama administration officials told reporters Thursday that the administration's new sanctions plan in response to Russian actions in Ukraine gives the United States "a great deal of flexibility" to target individuals behind the Crimean invasion.
Visas have been pulled from an unreleased number of Russians and Ukrainians, and the United States has promised to impose economic sanctions on individuals and companies as well.
But no one is being hit with the sanctions quite yet. An executive order issued by President Obama Thursday allows the Treasury secretary to impose "powerful financial sanctions on individuals and entities responsible for an array of activities related to the situation developing in Ukraine," an official said. The official called the sanctions "powerful and flexible" but said how exactly to use them is still being calculated.
"No individuals or companies have been blocked or designated for sanctions this morning," an official said. "What the authority does, though, is put in place a powerful tool that will allow us to target individuals and companies in the future that we see directly responsible for these destabilizing actives as well as assets, theft and flight that we identified in the executive order today."
Some action has been taken Thursday. The Obama administration has pulled some visas, but won't say how many or who exactly is affected.
"There are individuals who have had their visas pulled or will be banned from visas and those individuals, though I won't give names or numbers, this does include Russians and Ukrainians," an official said.
Administration officials characterized Thursday's moves as amping up pressure against Russia to pull their military forces in Crimea back to their bases in the Ukrainian region. Officials said they haven't seen Russian troop movements east of Crimea and suggested that a Russian pullback could change the U.S. view of the situation quickly. But the administration reserves the right to punish individuals and entities over what has already happened in Ukraine.
"We can recalibrate our sanctions and our actions based on what the Russians do. And obviously were they to de-escalate the situation and pull back into their bases, that would very much affect our calculus as to how we move forward with these types of actions," an official said. "We believe that there should be measures taken based on what's already happened in Crimea."
"We've already taken a number of those actions," the official said. "We would certainly reevaluate the situation if there were to be that kind of constructive action on the part of the Russians."