Obamacare's Grassroots Army Is Starting To Get Burned Out
On the frontline of Obamacare, frustration — and persistence — as bad news in Washington upsets best-laid plans.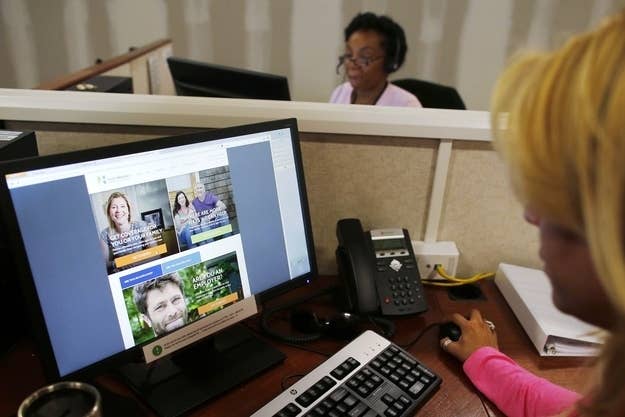 WASHINGTON — The botched Obamacare rollout has been a source of endless consternation among Democrats in Washington, but the pressure to make the law work is being felt most strongly by the grassroots bureaucrats and activists across the country whose efforts will make or break health care reform.
Often overlooked in the national health care debate, this army of Obamacare foot soldiers — comprised of nonprofit employees, clinic workers, and campaign-like volunteers and others — are responsible for ensuring that young people and the poor sign up for coverage soon. They knock doors, answer phones, and generally guide people on the ground through the red tape toward enrollment. They are often the public's first interaction with the law, and White House officials have said from day one their mission is vitally important to the system's ultimate success.
And one month in, many of them are suffering from low morale.
With HealthCare.gov mired in stubborn technical issues and all but impossible for many Americans to use, it has fallen to people like Samantha Shepherd to get people enrolled without the aide of the $600 million website that was built for this purpose.
"We've had to print a lot more paper applications," said Shepherd, an outreach and enrollment specialist with Cover Oregon, that state's version of the health care exchange system established under the Affordable Care Act.
Shepherd is upbeat about Obamacare's goals, maintaining faith in the law. But without a functioning website, the hard work of implementation has become grindingly slow and frequently frustrating — a slog that's a far cry from the experience many earnest Obamacare boosters expected when they signed on to this job.
"Some of the most disappointed people are the people who have been fighting for this. Some of us have given up our lives to this work, a lot of us have transplanted our lives to work on this," said Ray Paultre, organizing director for Enroll America Florida. "There is frustration," Paultre added. "It was like, 'Great! Oct. 1 is here!' and then it was, 'Oh...great. Oct. 1 is here.'"
Interviews with volunteers and coordinators across the country reveal that the failure of HealthCare.gov has created a ripple effect across the country, frustrating people on the front lines who are trying to make the law work even in places where enrollees can use state-run exchanges. In some cases, grassroots programs that were carefully planned for months have had to change on the fly as website glitches have slowed the enrollment process to a crawl.
The past month in Florida has not gone according to plan, Paultre said, with outreach progressing slower than expected as the rollout sputters. But he also said organizers are bucking each other up and making the best of the situation.
"Don't get me wrong, there have been delays. People have been delayed. We're fielding a lot more questions [than we expected]. This has been an issue for Enroll America," Paultre said. "But there are options … we love talking to people, so if people have one extra question, that's all right, we've got plenty of time."
Groups focusing on enrolling the underserved in health insurance have been forced to scramble in the opening weeks of the law's rollout. At the Access to Healthcare Network in Nevada, a nonprofit already serving a membership of the poor who have a medical discount plan, the frustrations have come at a high cost. Niki King, the vice president in charge of the member experience at the nonprofit, said she bought 25 computers in preparation for enrollment, planning to bring her members in and walk them through the sign-up process. So far those computers are paperweights — he has been forced to shift over to paper applications.
Not that they've done much good, King says. She's had to resort to an Excel spreadsheet made by the private insurer the nonprofit is partnering with for the transition to Obamacare to calculate costs for her members. "It's a mess," she said Monday. "I'm fascinated to know how Obama says you can complete enrollment by paper."
"I just got finished rewriting my information materials," King said. "I added a line saying, 'I promised you a ride in a Cadillac but instead it's a ride in a jeep. We have to go off-road and it's bumpy, but eventually we'll get you there.'"
With so much riding on the first months of Obamacare, including insuring supposedly hard-to-reach young people, a slowing of the grassroots outreach process could have a severe impact on the success of the president's signature legislative achievement. The administration is scrambling too. On Monday evening, officials reportedly moved the deadline to sign up for health insurance without penalty ahead by six weeks.
Still, organizers say the desire for health insurance among the underserved has not weakened. There are more questions about the strength and capability of the system, but the organizers say the political fight in Washington over the failed rollout hasn't become part of the debate on the ground.
"What is on CNN, MSNBC, Fox, and all those other shows, that's happening there," Paultre said. "But on the doors? Those real conversations we're having with people, they're not at all concerned about that."
"I've had conversations in the most conservative parts of the state and the most liberal parts of the state and the conversations are almost identical," he added. "'Hey, these are your options.' 'Great, how can I take advantage of them?'"
King said "just a few" of her clients have said, "I don't want anything to do with Obamacare." Most want what the law has to offer, they're just getting increasingly frustrated with how it arrives.
But even if the health care website hasn't turned legions onto the idea that Obamacare is a cumbersome socialistic scheme doomed to failure — as many Republican and conservative critics are convinced it has — the bad news for HealthCare.gov has made it hard to tell Obamacare success stories.
Nancy Skinner, a Democratic member of the California State Assembly, said the HealthCare.gov troubles have made it hard to tell the story of Covered California, her state's relatively well-performing exchange.
"Most Californians probably when they see the national news about the problems with the national website, you know, they may be less aware that California has its own website and we don't have those same problems," Skinner said. "So that's part of what our outreach is, to make sure they know, 'Hey, don't worry about that other news, this thing is working, and here's how you access it.'"
Skinner has been hosting events to ready community groups like churches and community centers to help educate on Obamacare enrollment since July. She puts some of the blame for the HealthCare.gov snafus on other states that declined to set up exchanges like California did, she said, which are now making it more difficult for states with exchanges to operate at their full potential.
"I would say to those other states, you should set up your own programs just like we did," she said. "It's done better state-by-state. Even though it is a federal program, every state can uniquely tailor it to their state's needs. That's the way it was designed, and that's the way it will work best."
Hours before the Oct. 1 deadline for enrollment, health care policy observers warned that a poor showing from the online portal could scare off young people, the enrollees Obamacare most needs to function properly.
So far, grassroots organizers focusing mostly on the young say the site problems have "had a very minimal impact" in the words of Aaron Smith, executive director of the Young Invincibles, noting that most of their recruitment efforts begin next month, coinciding with the period when officials say the website will begin to run better and better. Smith's group intends to partner with community colleges across the country, hosting programs on campus educating young and uninsured people about the benefits of Obamacare. He said the website problems haven't affected his effort yet.
"People are pretty receptive to getting health insurance," he said. "It's not like buying the latest iPad, where there's one glitch and it's not sexy anymore."
The grassroots organizers maintain a positive outlook on the future of health care reform, even as they admit the stumbling start for the enrollment system has changed the way they spread the word about Obamacare. But even if they can't quite muster the same enthusiasm they had at the outset of the project, most said they were determined to see it through.
"Just fake it till you make it, right?" said Shepherd.