Obama Administration Shying Away From Full Ban On Combat Gear For Local Cops
Public statements from top officials indicate the White House will keep sending military hardware designed for the battlefield to local police forces after Ferguson.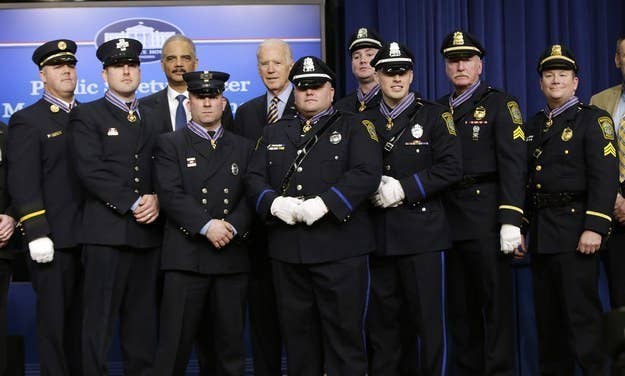 WASHINGTON — In the end, the Obama administration believes cops need their armored personnel carriers.
The final chapter of the post-Ferguson debate about federal programs that put combat military hardware in the hands of local law enforcement likely came Tuesday, when Attorney General Eric Holder told a lunch crowd at the National Press Club that military hardware is a necessary part of the police force, especially in the big cities.
"If you're in New York City and you have to deal with a terrorist incident, I think that some of the military equipment that has been made available to state and local authorities, in fact, can be useful," he said. "Now, again, it depends on the kind of equipment. Abrams tanks I don't think should be shared with our state and local counterparts. It's hard for me to imagine a situation in which that would be useful. But armored carriers and things of that nature I think can be useful if deployed in appropriate ways."
Holder said pretty clearly what Obama administration officials have been more careful about in public statements for months now: The White House is not embracing legislative efforts launched by libertarian Republicans and liberal Democrats to end so-called "police militarization" programs outright. Instead the administration will push a series of smaller changes to the programs aimed at changing the way local police are given surplus combat hardware from the Pentagon or helped to purchase it by federal grant programs run out of the Department of Homeland Security.
Militarization will still be a main focus of the Obama administration's post-Ferguson policing efforts, but the changes proposed will likely fall far short of the Commander-In-Chief-ordered end to the Pentagon program anti-militarization advocates hoped for last August. The administration plan shaping up as the president's 21st Century Policing Task Force deliberates is for strict new training and data collection requirements for police who use military equipment.
Those are changes long-sought by anti-militarization activists, who say police often turn to combat equipment and weapons without understanding their danger. There's been very little in the way of official centralized data collection on the use of military equipment by local police, leading advocates like the ACLU to compile it themselves from meticulous examination of local and state police reports. A June 2014 ACLU report found raids featuring military hardware were disproportionately carried out in minority communities. Mandated data collection, advocates say, will provide invaluable insight into how federal police militarization programs work and could provide fuel for further regulation of them.
There was hope among some advocates that the White House would go farther, however. That faded in the months after Ferguson when a promised White House review of militarization programs resulted in some small changes to how military surplus weapons are sent to police forces but not much else. (The administration declined to comment for this story on the record.)
That was followed by a series of administration statements that supported equipping local cops with combat hardware. In November, White House Press Secretary Josh Earnest pointed to the police response to the Boston Marathon bombing as evidence that combat gear was needed by local cops (it was something of an apocryphal tale). In January, Philadelphia Police Commissioner Charles Ramsey — appointed by Obama to lead the federal task force examining police-community relations — forcefully defended combat-equipped police at a gathering of mayors in Washington.
"If you have a situation like we had in Paris, you don't want a cop to show up with a flashlight and a baton," Ramsey said. "The term 'militarizing the police' sounds so bad, but to take away equipment just because someone thinks it looks military-like is a problem."
Ramsey also called for police to be "clear about under what circumstances should the equipment be deployed and guidelines about how to deploy it properly in those cases."
Holder offered a similar take Tuesday.
"Then the question is, what kind of training do they have? What kind of training do they have with regard to how it should be deployed? When should it be deployed?" he said. "I think... that the deployment of at least some of that military hardware in Ferguson exacerbated what was a pretty difficult situation."
Holder said more mundane details — like how military vehicles deployed by police look — were worth looking at, too.
"I think there are even some fundamental things about how do these things get painted? What do they look like? If it looks like the military is, in fact, occupying American streets during civil disturbances, that I think is not a good thing for the American people or for the world necessarily to see. So there are a number of questions I think that have to be worked through," Holder said. "So I wouldn't really disagree with Chuck Ramsey from Philadelphia. I think there is the need for it, but we just need to use, deploy this equipment in a way better than we have in the past."