The first tweet from the new account @POTUS was posted by the president on an iPhone Monday: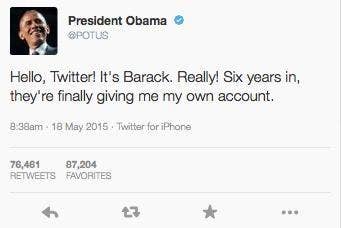 But this wasn't the president's iPhone.
A White House official told BuzzFeed News Obama's first tweet from the brand-new presidential Twitter account was sent using an iPhone registered to the Executive Office of the President — the government name for the sprawling presidential staff — but was not a device Obama regularly uses.
Obama is still outfitted with his super-secure government BlackBerry. The White House said it would not get into specifics about the device, including whether or not it's capable of posting tweets. In an appearance on Jimmy Kimmel Live in March, Obama revealed his BlackBerry is far more locked down than consumer smart phones.
"I can't use phones with recorders in them," Obama told Kimmel. "So a lot of the newfangled stuff, for security reasons, I don't get."
Obama has posted to Twitter regularly during his campaigns for the White House and while serving as president. Up until Monday, presidential tweets from the president were posted to the @WhiteHouse account and signed with a "-bo."
The new @POTUS account, like @WhiteHouse, belongs to the government, not to Obama. The next president will take it over in 2017, according to Alex Wall, the White House Director of Online Engagement. In a White House blog post Monday, Wall announced the @POTUS account and explained that it "will serve as a new way for President Obama to engage directly with the American people, with tweets coming exclusively from him."
Obama won't use Twitter exactly like a regular user, however. A White House official told BuzzFeed News that while the president will continue to add follows and post tweets, he will not engage in direct messaging.