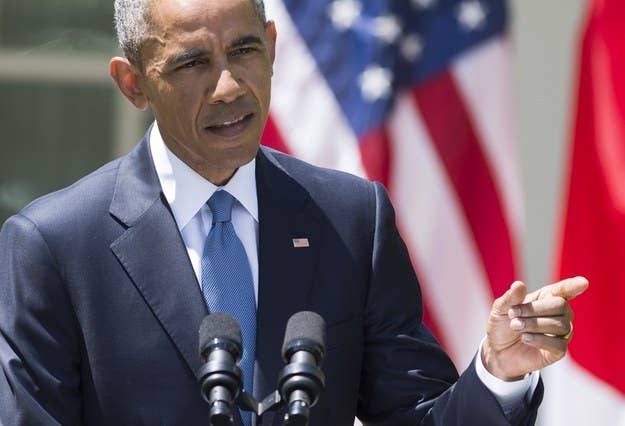 WASHINGTON — In long remarks about the unrest in Baltimore Tuesday, President Obama said the Republican-controlled Congress isn't interested in his proposals to improve life in inner-city communities that he said are the only way to prevent future unrest.
"If we are serious about solving this problem, we're going to have to not only help the police, we're going to have to think about what can we do, the rest of us, to make sure that we're providing early education to these kids, to make sure that we're reforming our criminal justice system to it's not just a pipeline from schools to prisons. So that we're not rendering men in these communities unemployable because of a felony conviction for a nonviolent drug offense. That we're making investments so that they can get the training they need to find jobs. That's hard. That requires more than just the occasional news report or task force," Obama said.
"And there's a bunch of my agenda that would make a difference right now in that," he went on. "Now I'm under no illusion that under this Congress we're going to get mass investments in urban communities, and so we'll try to find areas where we can make a difference, around school reform and job training and some investments in infrastructure in these communities trying to attract new businesses in."
At a joint press conference in the Rose Garden with Japanese Prime Minister Shinzo Abe, Obama condemned the rioters and looters as "criminals" and said it was "entirely appropriate" for Maryland and Baltimore authorities to step up efforts to prevent further unrest.
The president prayed for the health of police injured in the unrest and promised the Justice Department will investigate the circumstances of Baltimore resident Freddie Gray's death from injuries allegedly sustained in police custody that led to mass protest in the city.
But the main focus of Obama's remarks was on what he called a lack of political will to address deep structural problems from education to drug sentencing to job creation that he said fuel ongoing desperation and distrust of authority among some in poor communities of color.
"If we really want to solve the problem, if our society really wanted to solve the problem, we could. It's just it would require everybody saying this is important, this is significant, and that we don't just pay attention to these communities when a CVS burns and we don't just pay attention when a young man gets short or has his spine snapped. We're paying attention all the time because we consider those kids our kids and we think they're important and they shouldn't be living in poverty and violence," Obama said.
"That's how I feel, and I think they're a lot of good-meaning people around the country that feel that way," Obama said. "But that kind of political mobilization, I think we haven't seen in quite some time. And what I've tried to do is to promote those ideas that would make a difference, but I think we all understand that the politics of that are tough, because it's too easy to ignore those problems or to treat them just as a law-and-order issue as opposed to a broader social issue."
"That was a really long answer," Obama concluded after speaking more than 1,500 words about Baltimore. "But I felt pretty strongly about it."
The Obama administration has long said the Republican-controlled Congress can work with the White House on issues of trade, infrastructure spending, and efforts to change the way the criminal justice system deals with nonviolent offenders. But White House efforts to boost spending on education and other areas the administration says could help inner-city communities have been a tough sell on Capitol Hill.
Obama has also acted on his own to reach out to young men of color through his My Brother's Keeper initiative and Justice Department-led efforts to investigate police departments and change the culture of policing.
As he has many times since the unrest in Ferguson, Missouri, last August thrust the breakdown in police-community relations in many communities into the national spotlight, Obama highlighted his Task Force on 21st Century Policing and the Justice Department's efforts to make body cameras more easily available to police departments.
The president called on police organizations to be more open to the idea of changes pushed by advocates, saying "they have to own up to the fact that occasionally there are gonna be problems here, just as there are in every other occupation."