Obama Seeks To Allay Liberals' Concerns Over His Budget
"I don't believe that all these ideas are optimal," the president says.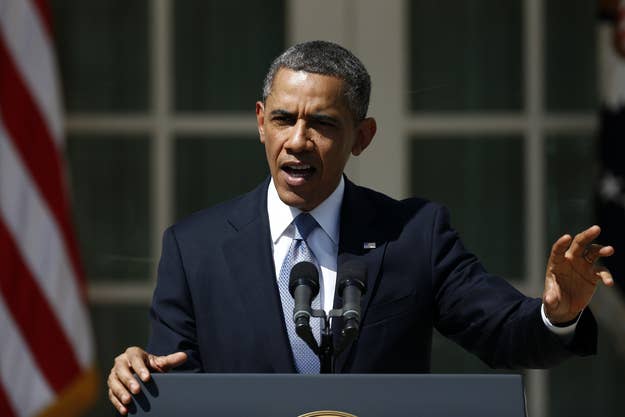 WASHINGTON — President Obama took a moment during his Rose Garden statement formally announcing his budget plan Wednesday to try and calm the frayed nerves of liberals upset over his proposal to cut entitlements as part of a bargain with Republicans.
"My budget does also contain the compromise I offered Speaker Boehner at the end of last year," Obama said, hinting at the so-called "chained CPI" cut to Social Security benefits. "I don't believe that all these ideas are optimal, but I'm willing to accept them as part of a compromise. If and only if they contain protections for the most vulnerable Americans."
Senior administration officials have noted that Obama's version of chained CPI exempts the poor from changes to their security benefits. So far, that fact hasn't changed some progressives' skepticism. On Tuesday, several prominent liberal groups — led by independent Sen. Bernie Sanders of Vermont — protested Obama's entitlement proposal in front of the White House.
In the Rose Garden, Obama suggested critics on the left follow his plan to reform entitlements or get stuck with a Republican plan they might like a lot less, such as the proposals written by Rep. Paul Ryan in the Republican-controlled House.
"The truth is, for those like me who deeply believe in our social insurance programs, think it's one of the core things that our government needs to do, if we want to keep Medicare working as well as it has, if we want to preserve the ironclad guarantee that Medicare represents, then we're going to have to make some changes," Obama said. "But they don't have to be drastic ones. And instead of making drastic ones later, what we should be doing is making some manageable ones now."
"The reforms I'm proposing will strengthen Medicare for future generations without undermining that ironclad guarantee that Medicare represents," Obama said.
Progressives are convinced their warning of Democratic primary fights means Obama's plans will ever get near a bill on the floor of Congress.
"I don't think he's going to get a chained CPI in this thing," Jim Dean, brother of Howard Dean and one of the leaders of Tuesday's progressive protest told BuzzFeed. "I honestly at this point don't see how anybody would be dumb enough to vote for something like this on either side of aisle. So I don't think we're going to have it and frankly the sooner he puts it behind him the sooner he can get on with the good stuff."