Obama Predicted End Of Enrollment Health Care Website Problems Weeks Ago
President Obama warned that increased traffic could kill HealthCare.gov on the last day of enrollment at a Telemundo town hall.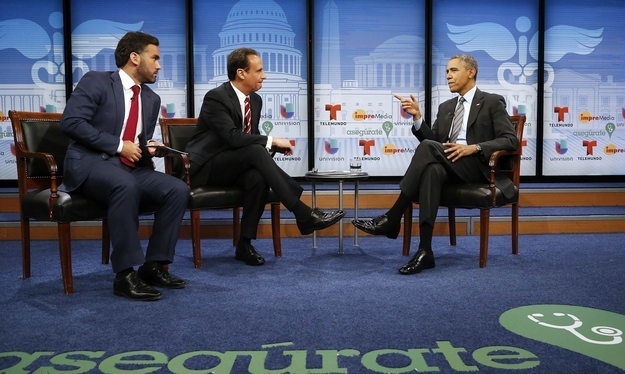 WASHINGTON — The Obamacare website crashed for a second time Monday afternoon, a result of what the Department of Health and Human Services told reporters was "record traffic" on the last official day of enrollment in the Affordable Care Act.
The HealthCare.gov crashes and another glitch on the White House website's enrollment deadline countdown clock were an embarrassing reminder of the snafus the administration had to overcome at the outset of enrollment on Oct. 1.
But for the traffic-related crashes at least, it was a problem President Obama saw coming. At a Telemundo town hall on the Affordable Care Act on March 6, the president warned potential applicants that HeathCare.gov could go down under the weight of traffic on the last weekend of enrollment.
Obama:

[F]or people who, let's say, started to sign up in October, the website was terrible in October. It was-- and it still wasn't very good in November. And so if you got discouraged initially, please go back and take a look and see, in fact, is it working, and can you get the information that you need.

Here's part of the concern that I have, is that if everybody waits until the last minute, everybody waits until March 27 or 28, then in some ways it's a self-fulfilling prophecy. Because if you have five million people all going on the website at the same time, even if it's a great website that's working well now, then yes, there are gonna be delays because there are only so many people that any website can absorb at a single time.
HHS spokesperson Joanne Peters said Monday's site problems were caused by huge traffic numbers, albeit lower than the 5 million number Obama referred to.
"There are a record number of people trying to access HealthCare.gov right now – more than 100,000 people concurrently in the system as of noon," she said. "The tech team monitoring HealthCare.gov in real time has identified an issue with users creating new accounts."
Peters said HHS is "working to resolve the issue as quickly as possible" and noted that the problems only affect new users. "The Data Services Hub is still fully operational," she said. "Users already in system remain able to complete enrollment."
Though March 31 is the official deadline for enrollment, the administration has extended the availability of online enrollment for users who self-identify as being unable to complete registration by the end of Monday.
On MSNBC's The Daily Rundown Monday, White House Affordable Care Act pointman Phil Schiliro equated the extension to allowing voters already in line to vote even after polls have officially closed.