Obama Opens The Door To Negotiations With Republicans
After insisting for weeks he won't negotiate with "a gun to [his] head," the president tries to give Republicans a way out. But he wants the country to know he's being the reasonable one.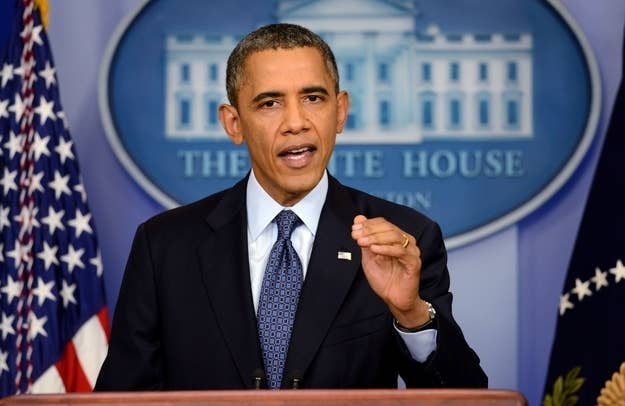 WASHINGTON — President Obama opened the door just a little Monday to a deal with House Republicans that could reopen the government and raise the debt ceiling, while casting himself as the easygoing guy in Washington facing a barrage of unhinged Republicans who don't even know how dangerous the game they're playing is.
In an hour-long press conference, Obama hinted he could support a bill to reopen the government and raise the debt ceiling for a short period of time while Republicans and Democrats negotiated a way to discuss a longer-term fix.
"I think Democrats in the Senate, in the House are prepared to talk about anything. I'm prepared to talk about anything. They can design whatever formats they want," he said of House Republicans. "What is not fair and will not result in an actual deal is ransom-taking or hostage-taking and — and the expectation that Democrats are paying ransom or providing concessions for the mere act of reopening the government or paying our bills."
Earlier Monday, House Speaker John Boehner floated the idea of a bipartisan panel tasked with negotiating a long-term budget plan in return for an increase in the debt ceiling and the reopening of the federal government. Obama didn't directly embrace the idea, but he didn't outright reject, either.
So that's a potential sign that there's a way out as the debt limit approaches. But most of the press conference was devoted to Obama's version of Debt Ceiling 101 and a constant contention that he's the reasonable one in the room.
"If Congress refuses to raise what's called the debt ceiling America would not be able to meet all of our financial obligations for the first time in 225 years," Obama said. "And because it's called 'raising the debt ceiling' I think a lot of Americans think it's raising our debt. It is not raising our debt. This does not add a dime to our debt."
Critics of raising the debt ceiling say the move gives the government room to spend more money than it already has, and claim that risking default is worth exacting steep cuts in the hope of breaking the cycle of government spending growth. Obama said the people selling that notion are playing with fire.
"Now the last time that the tea party Republicans flirted with the idea of default, two years ago, markets plunged, business and consumer confidence plunged, America's credit rating was downgraded for the first time, and a decision to actually go through with it, to actually permit default — according to many CEOs and economists — would be, and I'm quoting here, 'Insane, catastrophic, chaos,' [and] these are some of the more polite words," Obama said. "Warren Buffet likened default to a nuclear bomb, a weapon too horrible to use."
The president ticked off a list of impacts he said have come from the constant fiscal battles with House Republicans, saying that America's international reputation is on the line.
"I had to miss critical meetings in Asia to promote American jobs and businesses, and although as long as we get this fixed, that's not long-term damage, [but] whenever we do these things, it hurts our credibility around the world. It makes it look like we don't have our act together," Obama said. "That's not something we should welcome."
in keeping with the reasonable theme, Obama dismissed some of the more farfetched ideas furthered by the left when it comes to the debt ceiling. Some progressives have called for Obama to use a bizarre scheme involving a platinum coin worth $1 trillion to pay the nation's bills if Congress refuses to act. Obama dismissed that plan, saying it would do nothing to calm the nerves of investors if the debt ceiling isn't raised by Congress.
"So a lot of the strategies that the people have talked about, well, the president can roll out a big coin or, you know, he can he can resort to some other constitutional measure, what people ignore is that ultimately what matters is, what do the people who are buying Treasury bills think?," Obama said.
Obama said the the seemingly endless cycle of fiscal crises since 2011 have taken a toll on the American people. Looking directly into the camera, he addressed what he said was a frustrated populace.
"I apologize that you have to go through this stuff every three months it seems like," he said. "Lord knows I'm tired of it."
Obama cast himself as a reasonable man stuck in an unreasonable town.
"I've been willing to compromise my entire political career, and I don't believe that I have the answers to everything and it's my way or the highway," Obama said. "But, I'm not going to breach a basic principle that would weaken the presidency, change our democracy and do great damage to ordinary people just in order to go along with what the House Republicans are talking about."