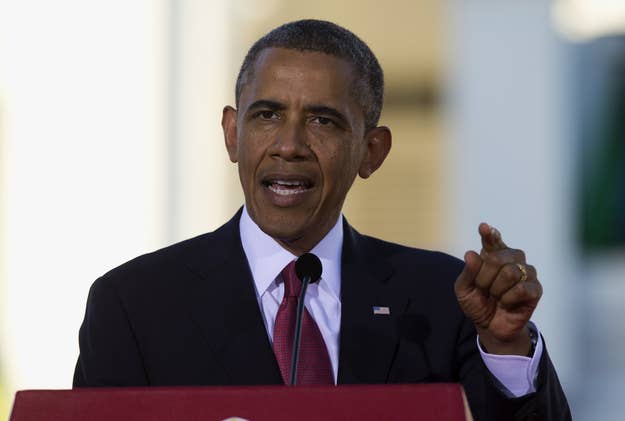 WASHINGTON — It's a criticism that has dogged President Obama since the first months of his administration and has followed him along his current trip through Africa: AIDS activists complaining he has failed to fight the spread of the disease as hard as his predecessor did.
On Monday, a day before Barack Obama and President George W. Bush are scheduled to make a joint appearance in Tanzania, Obama told reporters during a press conference with Tanzanian President Jakaya Kikwete that the activists who continue to compare him unfavorably to Bush on AIDS have their facts wrong.
"There's been an objection that we've reduced our commitment there," Obama said. "We are serving four times the number of people today than we were when PEPFAR [President's Emergency Plan for AIDS Relief] first began, but because we've gotten better at it and more efficient at it, we're doing it at reduced costs. We're not taking that money out of global health, what we're doing is putting it pack in to tuberculosis and malaria."
Obama praised Bush's efforts to fight AIDS through PEPFAR, calling the program one of Bush's "crowning achievements." And Obama said he'll use the joint appearance with Bush to "thank him on behalf of the American people for showing how American generosity and foresight could end up making a real difference in people's lives." Obama also shouted out Bush's AIDS work at a South African clinic over the weekend.
AIDS activists have kept up their criticism of Obama, using his trip to Africa to renew their concerns that the president hasn't significantly boosted funding to PEPFAR as he promised he would on the campaign trail in 2008.
"It's been a disappointment," Hilary Thulare, an official at the AIDS Healthcare Foundation told the Washington Post.
Throughout his Africa trip, Obama said his administration has continued, and improved upon, the work Bush began. The Post reported that behind the scenes, administration officials "bristle at the comparison to Bush." In a gaggle with reporters on Air Force One as the plane flew across Africa over the weekend, Obama said the reason there hasn't been an increase in PEPFAR funding during his administration is due to "budget constraints" in the current political environment.
"For us to try to get the kind of money that President Bush was able to get out of the Republican House for massively scaled new foreign aid programs is very difficult," Obama said. "We could do even more with more resources."
In South Africa, Obama said his administration is helping African countries to take over AIDS prevention work and find sources of money to fund it that aren't U.S. aid. During the Air Force One gaggle, the president said that despite a Congress reticent to boost international aid spending, he's still capable of pushing Bush's fight against the spread of AIDS to the next level.
"If we're working smarter, the amount of good that we can bring about over the next decade is tremendous," Obama said.