Obama On Syria: "A Lot Of People Think Something Should Be Done But Nobody Wants To Do It"
No decision yet, but the president says a "limited, narrow act" is on the table. Obama says American national security is at stake.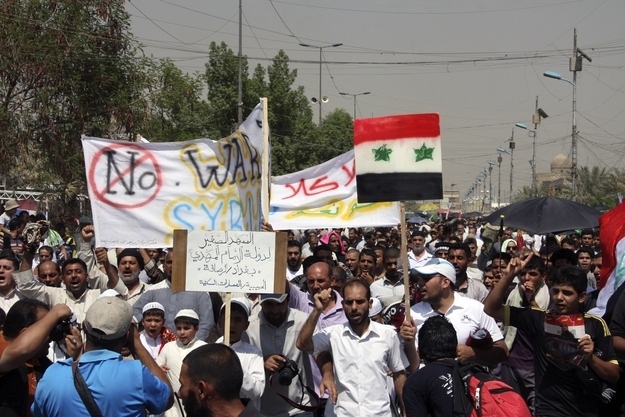 WASHINGTON — President Obama is still deciding what to do about Syria, he told reporters at the White House Friday. But, as his staff and cabinet officials have done several times now, he is ready to rule one thing out: sending ground forces to the country.
"We're not considering any open-ended commitment. We're not considering any boots on the ground approach," Obama said in a public appearance after a meeting with Baltic leaders.
The president reiterated that he has "not made any decisions" about how to proceed, but he also repeated his promise that something will be done.
"We are looking at the possibility of a limited, narrow act that would help make sure that not only Syria, but others around the world, understand that the international community cares about maintaining this chemical weapons ban and norm," he said.
"What we will do is consider options that meet the narrow concern around chemical weapons, understanding that there's not going to be a solely military solution to the underlying conflict and tragedy that's taking place in Syria," Obama said.
In longer comments, Obama said he understood why there's been reticence to engage in Syria following chemical attacks his administration insists it has proven were caused by Syrian president Bashir Assad. But he said the world — and U.S. national security interests — can't wait for Iraq fatigue to dissipate before acting.
"I recognize that all of us here in the United States, in Great Britain and many parts of the world, there's a certain weariness given Afghanistan. There's a certain suspicion of any military action post-Iraq," Obama said. "And I very much appreciate that."
In a long answer, the president said that if the attacks in Syria his administration says are Assad's fault go unanswered, "then we're sending a signal that that international norm doesn't mean much, and that is a danger to our national security."
Pointing to the stalemate in the U.N. — where Russia, with China's support, has vowed to oppose a U.N.-led action in Syria — and the ongoing effects of the weariness he described, Obama said, "ultimately we don't want the world to be paralyzed. And, frankly, you know, part of the challenge that we end up with here is that a lot of people think something should be done, but nobody wants to do it."
Obama again said that direct U.S. interests are at stake, referring to a potential chemical attack on Americans if the attacks in Syria are not responded to.
"This kind of attack is a challenge to the world. We cannot accept a world where women and children and innocent civilians are gassed on a terrible scale," he said. "This kind of attack threatens our national security interests by violating well established international norms against the use of chemical weapons by further threatening friends and allies of ours in the region, like Israel and Turkey, and Jordan and it increases the risk that chemical weapons will be used in the future and fall into the hands of terrorists who might use them against us."
Friday brought the United States ever closer to a military strike on Syria, with Secretary of State John Kerry delivering an impassioned case for some kind of action after the Obama administration released an intelligence report detailing what officials said was clear-cut evidence that Assad ordered chemical attacks that killed over 1,000 people earlier this month.
Senior administration officials told reporters on a conference call Friday the president is still seeking input on how to proceed in Syria. One official said the president has "received options from the military and also from his broader national security team about potential courses of action."
The official said "a two-way conversation with Congress" is ongoing, and that Obama is still talking to international leaders as well.
"Those international conversations are also important to the president's decision-making," the official said. "But ultimately he will make the decision that's in the best interest of the United States on his timeline."
Watch Obama's remarks on Syria to reporters Friday: