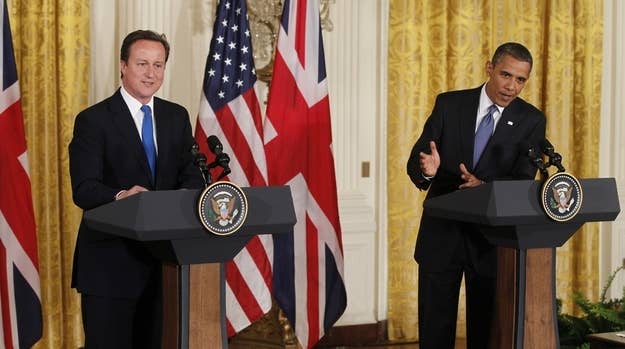 WASHINGTON — Angry Obama was back at the mics Monday.
Just weeks after a frustrated President Obama stepped to a lectern and insisted he still has "the juice" to get legislation through Congress, a forceful President Obama met the press to try to shut down two stories that threaten to derail his second-term agenda.
Obama is known for not showing a lot of emotion publicly, but lately he's been much more expressive as he tries to corral a polarized Congress into acting the way he wants. On Monday, he was forceful in his condemnation of reported IRS targeting of conservative groups with extra scrutiny and angry over Republican attacks on his administration's handling of Benghazi.
Congress is currently obsessed with both stories, and political operatives are already lining up to talk about how they'll influence the 2014 midterm election and Obama's political power.
At a joint press conference with British Prime Minister David Cameron where he took only two questions, Obama tried to shut the door on both the IRS and Benghazi stories with passionate answers. The Benghazi accusations offend him deeply, Obama said — and the IRS allegations make him sick.
Obama said he first learned of the IRS story Friday in news reports, the way the rest of the country learned of it. After both Republicans and Democrats on Capitol Hill demanded a full accounting of the IRS' actions, Obama said he too was deeply concerned.
"I'm not going to comment on [the IRS inspector general's] findings prematurely, but I can tell you that if you've got the IRS operating in anything less than a neutral and non-partisan way, then that is outrageous. It is contrary to our traditions, and people have to be held accountable, and it's got to be fixed," he said. "So we'll wait and see what exactly all the details and the facts are. But I've got no patience with it, I will not tolerate it, and we will make sure we find out exactly what happened with this."
Obama's IRS answer probably won't satisfy Republicans demanding a public apology from the president and insisting the story indicates Obama's White House is run like Nixon's. But the president put himself on the same page with elected officials of all political stripes Monday who demanded to know more about what happened at the IRS and the firing of those responsible for any malfeasance.
On Benghazi, the president was much more partisan, condemning Republicans for, he said, trying to score political points off the deaths of U.S. diplomats at the American compound in the Libyan city last year.
"The whole issue of talking points, frankly, has been a sideshow. Immediately after this event happened, we were clear who exactly carried it out, how it had occurred, what the motivations were ... nobody understood exactly what was taking place during the course of those first few days," Obama said.
"There's no there there," Obama added, speaking of the talking points.
Clearly frustrated by the ongoing Benghazi push in Congress, Obama said Republicans are trying to damage him rather than investigate the deaths of American diplomatic workers.
"The whole thing defies logic, and the fact that this keeps on getting churned out frankly has a lot to do with political motivations," he said. He referred to Republican attacks on Hillary Clinton and Susan Rice as well as other members of the president's national security team. Republicans have "used it for fundraising and, frankly, if anybody out there wants to actually focus on how we make sure something like this doesn't happen again, I am happy to get their advice."
"We dishonor [diplomats willing to serve in dangerous roles] when we turn things like this into a political circus," Obama added.
Obama's Benghazi answers aren't likely to calm Republican nerves, either, but the president hopes that by showing a little emotion he can quiet down some of the noise on Benghazi and the IRS threatening to drown out the rest of his agenda.