Obama As Zinger-In-Chief
Obama had fun at the mics Friday.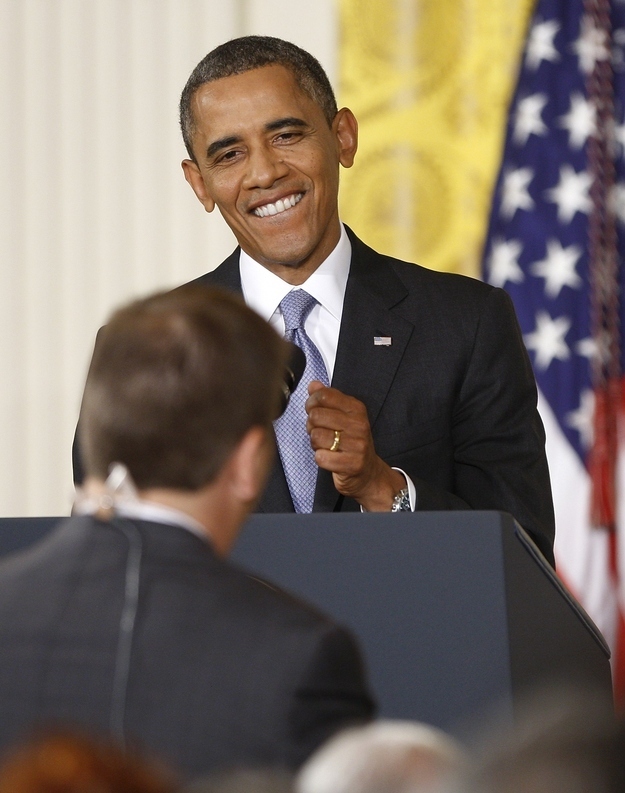 WASHINGTON — President Obama dad-joked his way through a press conference Friday, using the rimshot to punctuate tough talk for Russia, Edward Snowden, Benghazi critics, and Congressional Republicans before leaving town on his way to weeklong vacation.
Some of the jokes were strained, but with the constant zingers Obama presented a looser, more relaxed image than he did at angrier or more frustrated White House press conferences in the recent past. Those were punctuated by tough questions about Obama's effectiveness and response to scandal. Friday's had tough questions too, but for whatever reason in the hours before he left DC — first stopping in Orlando for a speech and then heading to Martha's Vineyard for vacation — the president appeared to be a in a good mood.
The first zinger came near the top of the press conference, when the president was commenting on the current sorry state of American relations with Russia. Obama again accused Russian President Vladimir Putin of viewing relations with the U.S. through the lens of the Cold War. He also said the famous image of Putin looking uninterested during a recent summit in Northern Ireland didn't depict the real Putin.
"I know the press likes to focus on body language," Obama said, "and he's got that kind of slouch, looking like the bored kid in the back of the classroom."
Zing.
"But the truth is is that when we're in conversations together, oftentimes it's very productive," Obama continued.
It went on like that. When Obama was asked to defend his support for NSA spying programs — and the new transparency programs he announced at the outset of the press conference — he went into a fictional tale about Michelle Obama and dirty dishes that was at least supposed to be funny.
"If I tell Michelle that I did the dishes — now, granted, in the White House I don't do the dishes that much, but but back in the day — and she's a little skeptical," Obama said. "Well, I'd like her to trust me, but maybe I need to bring her back and show her the dishes. And not just have her take my word for it."
Zing.
"And so, you know, the program is — I am comfortable that the program currently is not being abused," the president concluded. "But it is absolutely true that with the expansion of technology, this is an area that's moving very quickly, with the revelations that have depleted public trust, that if there's some additional things that we can do to build that trust back up, then we should do them."
The selection of a new Fed president is looming on the president's agenda, and it threatens to split Obama from key parts of his base extremely uninterested in seeing former Treasury Secretary Larry Summers get the job. Obama dismissed the suggestion from CBS' Major Garrett that by defending Summers from critics in liberal and women's groups he's signaling Summers is the front runner.
"Major, I'd defend you if somebody was saying something that wasn't true about you," Obama zinged. "I really would. In fact, I've done that in the White House sometimes."
Sarcasm reigned when Obama tried to throw some zingers at the Congressional GOP over Obamacare.
"I think the really interesting question is why it is that my friends in the other party have made the idea of preventing these people from getting health care their holy grail, their number one priority," Obama said, referring to people already being affected by the health care law. "The one unifying principle in the Republican Party at the moment is making sure that 30 million people don't have health care."
Not all of Obama's zingers were meant to add levity. When it came to Benghazi, Obama zipped off a one-liner aimed at silencing critics who say his administration hasn't worked hard enough to locate and prosecute the perpetrators of the attack on the American diplomatic facility in Libya, which occurred on Sept. 11, 2012.
"I also said that we'd get bin Laden," Obama said. "And I didn't get him in 11 months."
More From Obama's News Conference: