Obama Tells Young Africans "You've Got To Update" Africa's Treatment Of Women
"If you're a strong man, you should not feel threatened by strong women," the president said.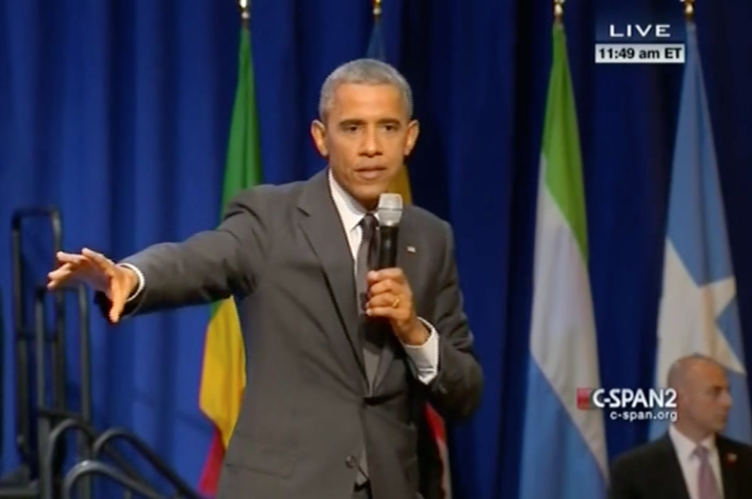 WASHINGTON — President Obama told a crowd of 500 young Africans Monday that Africa needs to abandon some of its past to create a future more accessible to women.
"If you try to duplicate traditions, that were based on entirely different economy and an entirely different society, an entirely different expectation, well, that's going to break down. It's not going to work." Obama said at a town hall meeting hosted in Washington as part of his administration's Young African Leaders Initiative. "So as a continent, you have to update and create new traditions."
Obama said traditional ideas like polygamy, once popular in Kenya, don't work in modern society.
"It was based on the idea that women had their own compound. They had their own land and so they were empowered in that area to be self-sufficient. And then urbanization happened, suddenly the men may be traveling to the city, and suddenly there's another family in the city and the women who are left back at the villages may not be empowered in the same way, and so what worked then might not work today," Obama said.
He singled out two specific traditions he said needed to be erased from Africa's future.
"Female genital mutilation, I'm sorry, I don't consider that a tradition worth hanging onto," Obama said. "I think that's a tradition that is barbaric and should be eliminated. Violence towards women. I don't care for that tradition. I'm not interested in it. It needs to be eliminated."
Obama said continuing gender inequality in Africa could hamper economic growth and progress on the continent. He implored the African crowd to make advancement for women a universal priority.
"All the men here have to be just as committed to empowering women as the women are. That's important," Obama said. "I don't think that this is just a job for women to worry about women's issues. The men have to worry about it. If you're a strong man, you should not feel threatened by strong women."