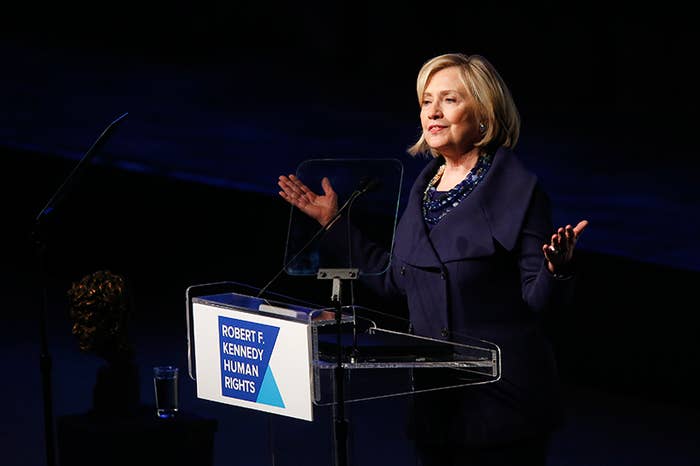 When Ray LaHood took the job as President Obama's first secretary of Transportation, email poured into his personal email account. As often as he could, an aide to the former secretary said Thursday, the secretary would reply with his government-issued email address and get the conversation onto his government account.
LaHood, too, navigated the issue on his Blackberry, where he had both his personal and government email. Those emails were all archived for public record — from both accounts, according to the aide, who said that erring on the side of disclosure was their office's understanding of the expectations for email.
LaHood's experience, related in detail to BuzzFeed News, was similar to that of other senior administration officials, officials and staff said. And it was also the way most people who worked in the administration from the early days of President Obama's term understood things to work when it came to email, according to several former White House aides reached by BuzzFeed News this week.
As is now apparent, former Secretary of State Hillary Clinton did not navigate this line between the official and personal email accounts during her four-year tenure — she did not use a government-issued email account. The revelation this week of her personal account has raised questions about whether her email was secure, why her emails were not prepared for archival during her tenure, and the process for delivering the 55,000 pages of email to the State Department last year.
The personal email account has also raised questions about whether Clinton or her most senior aides were counseled against the secretary using personal email.
LaHood, who also entered the administration in 2009 like Clinton, offers insight into a contemporary counterpart's approach to email.
According to a top aide to LaHood that BuzzFeed News spoke with Thursday, there was a broad understanding at the Department of Transportation — handed down from the White House — that personal email was not supposed to be used for professional correspondence. Though the aide did not know if the former secretary had personally been briefed on the use of government-issued email and personal email, the aide said the people around the secretary were.
At Transportation, the rules surrounding issues like personal email were governed and enforced by an in-house ethics lawyer — a career employee, rather than a political employee — who policed Transportation officials' ethics compliance, and interacted with the inspector general's office for the department. Making sure the right email addresses were being used was part of that job, the aide said.
It was sometimes a problem for LaHood, who was very accessible via email, the aide said. LaHood, a former Republican Congressman from Illinois, shared his personal email address with a lot of people, an aide told BuzzFeed News Thursday, from local reporters back in Peoria to constituents from years before he joined the Obama administration. His government BlackBerry, issued shortly after he became head of the DOT, linked to both his personal email account and his government-issued .gov account.
According to the aide, the expectation was always that both LaHood's personal and government email would be prepared for public record. In recent days, aides have been in touch with the Department of Transportation's IT department to ensure that the process is actually happening as planned. The aide estimated around 30,000 emails in total will be in the public record, including all sent from LaHood's personal account while he was a member of the Obama administration.
The issues surrounding personal email drew attention in other agencies and departments, as well. In 2013, the EPA Inspector General criticized the political leadership at the agency for not properly making clear that personal email was not to be used. The investigation came in response to an incident where then EPA administrator Lisa Jackson used a separate government email address to communicate with EPA staffers under a pseudonym separate from her publicly-available government account. Jackson was cleared of wrongdoing, but the Inspector General reprimanded the EPA because it "had not provided guidance on preserving records from private email accounts."
A somewhat clearer picture of the rules around email inside the administration and State Department has developed since Clinton's email usage was revealed earlier this week.
On Thursday, the Associated Press reported the White House Counsel's office didn't know that Clinton hosted all her email on a private server, and that the move went against guidelines sent down by the White House to agenices.
The Inspector General's office at State while Clinton was there strongly criticized an ambassador for using "commercial email for official government business," according to a 2012 report.
In a statement, a State Department official downplayed the email part of the IG report when asked about it.
"In the summer of 2012, Ambassador Scott Gration offered his resignation as Ambassador to Kenya," the official said. "Shortly after, the State Department's independent Inspector General issued an August 2012 inspection report citing several concerns with management and leadership at our embassy in Nairobi."
State Department rules had warned against the routine use of personal email for business since 2005, Politico reported on Thursday.
The White House has been steadfast in its insistence that administration officials were told to use their government email accounts whenever possible. At the daily press briefing Wednesday, White House press secretary Josh Earnest faced a second day of questions about administration email. Personal email isn't off-limits, he said, but keeping government communications out of the public archive required by law is. For that reason, officials are told to forward private emails to their public accounts so the messages are legal.
"The guidance that we have given to administration staffers is that they should just save themselves the extra step and do their official government business on their official government email account," Earnest said. "That is the path that the vast majority of administration staffers use."
But according to those that worked there, and public statements by Earnest, the administration atmosphere at least emphasized enforcement of the rules surrounding email usage. Inside the White House, the repeated warnings weren't so much about using personal email accounts but about keeping any private emails they sent about their jobs out of the archived public record. Former staffers said they rarely if ever used personal email for government work, but if they did it was usually only when they were off-site and government email was down.
"They were pretty consistent about reminding us the rules," one former White House official recalled. "Every once in a while there would be an email outage or something and you'd get a reminder that you shouldn't be using your personal email for government business and that, if you had, you needed to immediately forward any emails to your .gov account so they'd be preserved."