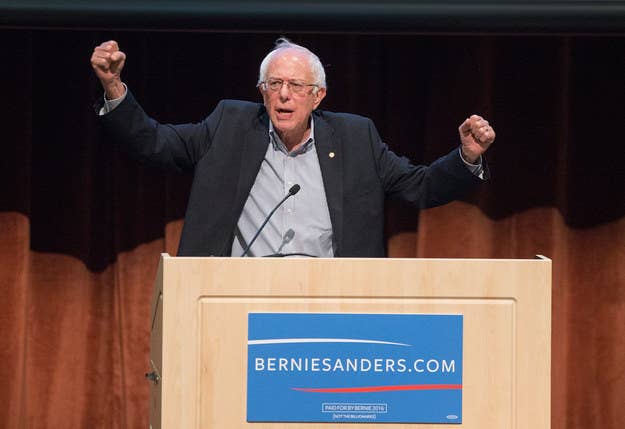 OAKLAND, California — Bernie Sanders earned the endorsement of National Nurses United after the membership of the nation's largest nurses union voted to back him over his Democratic rivals, leaders of the union announced at their headquarters here Monday.
The union represents more than 185,000 members. Ninety percent of them are women. Working women are a major target for Democratic frontrunner Hillary Clinton — and she's already successfully wooed the endorsement of another huge union representing thousands of working women, the AFT. Clinton competed with Sanders as well as other Democratic candidates for the National Nurses United endorsement, filling out a questionnaire for the group and meeting with a member of its senior leadership at an AFL-CIO–sponsored Q&A session with candidates earlier this year. Sanders was the only candidate to rate 100% in the union's survey.

A senior official at the nurses union said members and leadership picked Sanders in part due to Clinton's refusal to take a position on the Keystone XL pipeline.
"He understands the health effects of climate change," Charles Idelson, communications director for National Nurses United, told BuzzFeed News in an interview ahead of the endorsement formal announcement. "We're opposed the Keystone pipeline because of health impacts," he added, citing the potential for "toxic spills" from the hundreds of miles of proposed oil pipeline.

Sanders' support for single-payer health care and his opposition to President Obama's trade proposals also played well with the union's leadership, Idelson said.
Results of an internal vote among National Nurses United members showed Sanders won the "overwhelming" support of the membership, Idelson said. Leadership was also impressed by the Vermont senator, who has been a close supporter of organized labor for his decades-long political career. The endorsement is Sanders' first from a national union as a presidential candidate.
The endorsement means Sanders will be able to rely on grassroots support from the nurses on the ground in early primary states like Iowa and New Hampshire, where the union has thousands of members.
The endorsement is not expected to bring Sanders a cash windfall however.
"Our engagement with politics is less money than it is political activism," Idelson said. The union will begin stumping for Sanders as early as Monday, with members scheduled to participate in an Iowa house party for Sanders hours after the endorsement was announced.
In a statement, the union's executive director, RoseAnn DeMoro, said supporting Sanders was a no brainer for the majority-women organization she heads.
"Bernie Sanders has a proven track record of uncompromised activism and advocacy for working people, and a message that resonates with nurses, and, as we have all seen, tens of thousands of people across the country," she said. "He can talk about our issues as well as we can talk about our issues. We are proud to stand with him in his candidacy for president today."