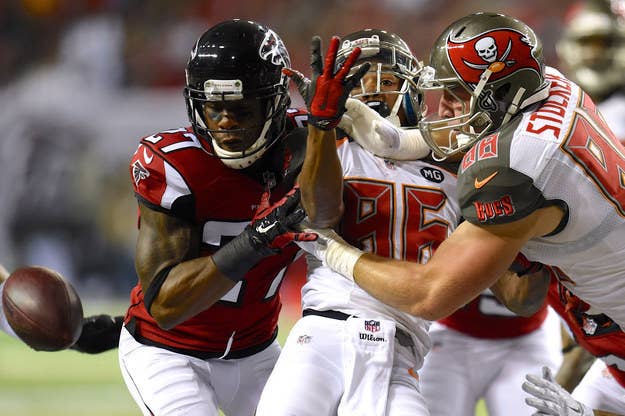 WASHINGTON — From big checks written by team owners and players to high-profile events at stadiums and even during games, the National Football League plays in tight formation with America's political fundraising operatives.
That's not likely to change, despite the flood of bad news for the league, ranging from accusations of racism, homophobia and domestic and child abuse.
"No absolutely not," emailed one Republican fundraiser when asked if it was time to advise candidates against taking checks that could in someway be traced back to the NFL.
"I probably wouldn't recommend them to take a contribution from Ray Rice, but it takes a LOT for a candidate to turn down money :)," the fundraiser wrote.
The Sunlight Foundation's Political Party Time team — a watchdog group that tracks political fundraising events — crunched the numbers for BuzzFeed News and found the NFL and fundraising for both parties are deeply intertwined.
New York Jets owner Woody Johnson has hosted 12 parties for Republican candidates since 2011, many of them for Mitt Romney. Next month, he's hosting an RNC fundraiser at his home featuring party chair Reince Priebus. Meanwhile, New York Giants owner Steve Tisch has used his influence to help Democrats, chairing a fundraiser for New Jersey Sen. Cory Booker in California last year.
The list goes on. In 2012, Jacksonville Jaguars owner Shahid Khan chaired a fundraiser for Elizabeth Warren featuring Madeline Albright. Eli Manning hosted an NFL watch party fundraiser at his home for Hoboken, New Jersey's Democratic Mayor Dawn Zimmer in 2013.
NFL facilities are also big draws. Michelle Obama hosted a 2102 fundraiser for her husband's campaign at Lucas Oil Stadium, home of the Indianapolis Colts. Pro-football games are regularly the home to political fundraising. Sunlight's data — which the watchdog stresses is not comprehensive — found 32 events at NFL stadiums and games, including fundraisers for Paul Ryan's PAC at Lambeau Field and a fundraiser for Florida Republican Rep. Tom Rooney in 2011 at Heinz Field in Pittsburgh.
Far and away the most popular NFL facility for political fundraising is FedEx Field in Maryland, home turf for Washington's pro-football team — which has been accused of racism by Native Americans because of the team's name.
Politicians, lobbyists and other big-money types often use Washington home games to host high-dollar fundraising. Sunlight says their data shows FedEx Field is part of the DC money machine's regular rotation.
"In the world of political fundraising, there are lots of cocktail hours and receptions, so hosting a party at a football game is one way a politician can kind of stand out from the more conventional stuff," said Palmer Gibbs, a reporter for the Sunlight Foundation. "People on Capitol Hill use the NFL as a fundraising ploy, but not a whole lot more than they use a baseball game or Taylor Swift concerts."
The NFL has its own PAC, too. The group chaired DC fundraisers for Utah Republican Sen. Orrin Hatch in both 2012 and 2013. According to the Center for Responsive Politics, which tracks all the recipients of NFL cash, 52% of donations from the league to to Democrats and 48% go to Republicans. The NFL's PAC has donated more than $1.3 million to federal candidates since 2010, according to the CRP data.
Still, the league's image, once one of the best in professional sports, has taken a major beating, starting with the negative reaction some coaches and players had to the drafting of the first openly gay player last spring, to the ongoing controversy over Washington's name and a host of domestic violence and child abuse complaints against marquee players. The NFL's top brass have been playing defense since the first kickoff, and politicians, even those who've benefited from the league's political activities, are starting to join the growing chorus of critics.
Booker said Friday it might be time to revoke the NFL's nonprofit status, and New York Democratic Sen. Kirsten Gillibrand has threatened congressional hearings looking into domestic violence allegations against former Ravens player Ray Rice.
But the bad news isn't likely to stop the close relationship between political fundraising and the NFL, observers said.
"It is the best fundraiser you can ever throw because it can't miss," said Ford O'Connell, a Washington-based Republican strategist. "The NFL has such wide appeal across party lines. What is female viewership even with this nonsense? It's up 40%. Football is so ubiquitous in American life it's hard to see how [a fundraiser] would be a hindrance unless you took money from one of these players."
Not all fundraisers are saying raising money by associating a candidate with the NFL is a a great move these days.
"I would advise any federal candidate at this time not to seek out NFL dollars since as a candidate you do not want someone else's image issues affecting you at the ballot box with potential voters," said Amanda Kornegay a DC-based fundraising consultant who raises money for Republicans. "Also, by taking money from the NFL a campaign or candidate might give themselves an added headache for a Republican in a tight race, due to the 'perceived' GOP war on women."
But most fundraisers and political observers said the NFL will likely remain closely tied to political fundraising no matter what scandal hits the league. Asked about how the league scandals might affect the cashflow, they mostly didn't want to talk about it.
"I'm not comfortable answering that question on or off the record," one top Democratic fundraiser said.