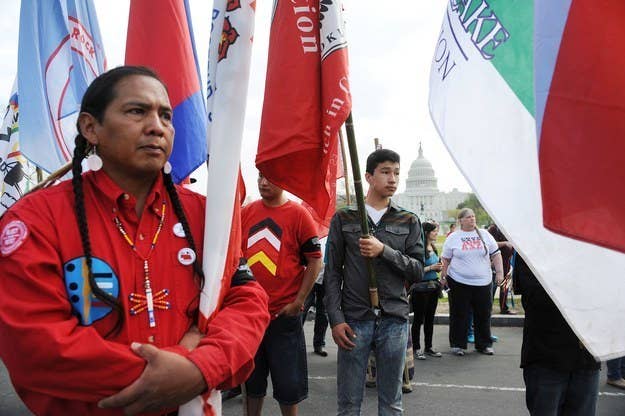 WASHINGTON — Native American activists gathered on the National Mall this week as part of a coalition protest of the Keystone XL pipeline that included environmentalists concerned about impact from the pipeline on water and air and ranchers worried about a massive construction project cutting through their land.
Leaders of the South Dakota-based Rosebud Sioux tribe share those concerns, but they have one more: If the Keystone XL pipeline is approved by the Obama administration, they claim, the federal government will be condemning Native women to sexual assault and rape.
"They are going to build a 600-man camp next to our land," Rosebud Sioux President Cyril Scott told BuzzFeed between meetings with government leaders in Washington on Tuesday. "I am very concerned these transient workers are going to come onto our land and violate our people."
The concerns about sexual assault were a central part of the message this week as Native Americans and others gathered in Washington for their multiday protest.
"We are worried about man camps that are coming to our territory," Native American activist Faith Spotted Eagle of the Yankton Sioux told a crowd on the Mall Tuesday. "We have seen our women suffer."
Native leaders have been arguing that Keystone XL construction will endanger Native women in forums throughout the areas where the pipeline project will be built, should it be approved. Their argument: Pipeline construction means "man camps" (temporary areas built for pipeline construction crews) and the influx of men from outside the Native population will make an already difficult situation for Native women even worse. The men will overwhelm tribal law enforcement, the leaders say, and intricacies of the law will make it all but impossible for tribal governments to prosecute pipeline workers from outside the tribe who commit any crimes at all, including sexual assault.
The tribal leaders have brought their concerns to federal government, but said they haven't heard much of a response. Government representatives say they take the issue of increased sexual assaults on Indian land seriously, but note that they're not specific to Keystone.
"That's the humanitarian aspect" to Keystone opposition, said Aldo Seoane, another Rosebud Sioux official, said amid teepees his group and others set up on the National Mall this week to protest Keystone. "There will be violence and sexual assault from Keystone."
In addition to his work for his South Dakota-based tribe, Seoane is a top official at the Charging Buffalo Society, a California-based nonprofit that tries to curb domestic and sexual violence victimization of Native women. He said sexual assaults committed by members of Keystone construction crews are a given if the pipeline is built and is reason enough to stop its construction.
Native leaders are on solid ground when they say Native American women suffer from sexual assault at a rate higher than that of the general population. Department of Justice statistics show "American Indians are 2.5 times more likely to experience sexual assault crimes compared to all other races, and one in three Indian women reports having been raped during her lifetime."
But one advocate who tracks violence against women and seeks to prevent it said the possibility for an increase in violence that comes with a population change was not a common tool used to attack projects like Keystone.
"I've not heard this one before as an argument against the expansion of commerce," said Scott Berkowitz, president of Rape, Abuse & Incest National Network. "Workplace-related violence is not terribly unusual, but I think that as an argument for or against a pipeline it's a little unusual."
Berkowitz said the problem of sexual assault of Native women is very real. And, indeed, much has been written about the problems women in the path of America's domestic oil boom have faced in places like North Dakota. But Berkowitz said that education of women and men can help dramatically reduce instances of sexual violence.
Research has also shown sexual assault is usually committed by serial offenders rather than perpetrators committing the crime just once, so prevention measures aimed at helping good actors police the bad at "man camps" or any other workplace can be effective at reducing the risk.
"In the job screening phase, it's tough. A basic criminal background check is not going to be sufficient because these guys get away with it over and over," Berkowitz said. "One thing that employers can do is put their own employees through some bystander education. In a place like this where they're fairly transient and socializing together, you need the good folks appealing to their best interests" and stopping victimization before it starts.
Native leaders want the federal government to take the potential for sexual violence into account, but they say their concerns have gone unheard.
Scott says he brought his concerns about sexual violence and Keystone to Kevin Washburn, the Interior Department's assistant secretary for Indian affairs, in a recent meeting.
"I never got an answer," Scott said. "He told me, 'I don't speak for my bosses.'"
The meeting happened, and the Interior Department says Scott was heard.
"Rosebud Sioux President Scott met with Assistant Secretary for Indian Affairs Kevin Washburn in February on an another matter but did raise this issue with him," said Jessica Kershaw, a spokesperson for the department. "Washburn reaffirmed to President Scott that his job is to advocate for tribes and that he would communicate the concerns raised about pipeline construction to Interior and State officials, however, the final decision on the Keystone Pipeline will be made by the State Department."
Kershaw said Washburn did communicate the concerns to others in the government after the February meeting.
Native leaders raised the issue of Keystone-related sexual assault in an August 2013 South Dakota meeting with U.S. Attorney Brendan Johnson. According to local reports of the meeting, Johnson expressed solidarity with the concerns.
"The fact of the matter is, when you have large groups of men coming into a rural area, it really increases concerns," he said, "and have to be very vigilant about human trafficking in those types of areas."
A Justice Department spokesperson offered to make Johnson available for comment, but did not follow up by press time.
President Obama signed the latest version of the Violence Against Women Act, which included new regulations making it easier for tribes to prosecute non-members for domestic violence. But the law, Keystone opponents note, doesn't allow for tribal prosecutions of strangers who commit rape on Indian territory and most of its provisions don't kick in until March 2015.
Though the Native leaders brought their concerns over sexual assaults and Keystone XL to the nation's capital this week as part of the coordinated anti-pipeline protest, it's not clear if the concerns will ever rise above a footnote in the national debate over the pipeline. Environmentalists, while sympathetic, say that the sexual assault issue means most to those who live near the proposed Keystone path and note that it's not a concern unique to Keystone specifically.
Seoane says the possibility of rape by pipeline workers is just one of the many reasons to oppose Keystone.
"Everything that man makes fails," he said on the Mall Tuesday. "Look at the Titanic."