Mitch McConnell Schools Democrats After Secret Recordings Are Published
After a potentially embarrassing tape leaks, a master class in spin. "McConnell took their faux-drama and busted a cap in their ass," says Wilson.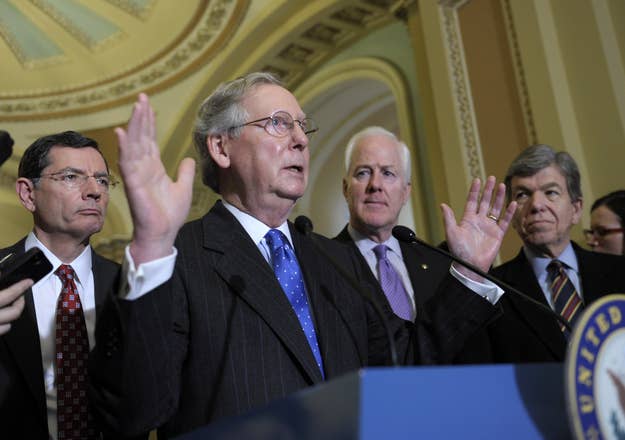 WASHINGTON — Senate Minority Leader Mitch McConnell put on a clinic in crisis communications Tuesday, turning a potentially explosive secret recording of his campaign's strategy session into a political bludgeon to beat Democrats — and the campaign cash bushes.
"Last week they were attacking my wife's ethnicity and apparently also bugging my headquarters, much like Nixon and Watergate," McConnell told reporters on Capitol Hill. "That's what the political left does these days."
If the press conference were an episode of the camp-era "Batman" that's where the "biff!" titlecard would show up. McConnell had gone from a man on his heels after a recording of an oppo research session on Ashley Judd was published by Mother Jones to the master politician driving the story to his own benefit.
McConnell's strategy with the tapes, which included calling in the FBI as well as accusing his opponents of illegally bugging his office, has awed Republican political observers.
"McConnell took their faux-drama and busted a cap in their ass. He turned it within minutes into a legal, political and fundraising attack on MoJo, the DSCC, American Bridge and the rest," said Rick Wilson, a GOP consultant based in Florida. "Really, quite impressive. Don't let that softspoken thing fool you. He'll cut a bitch."
While accusing progressives of bugging his campaign office Plumbers-style could come back to haunt him if he's not right, the early indications are McConnell has fired up his base and turned the story into a cash cow for his reelection campaign.
And he's succeeded in quickly turning the discussion away from the substance of the tapes — a task made easier by the fact that there was no smoking gun in the recording.
On the tapes, members of McConnell's campaign can be heard discussing using Judd's mental history, her opposition to coal, and her support of Obama against her in a potential election match up. Although perhaps a bit jarring to anyone who's never witnessed a political campaign, even attacks on Judd's mental problems would hardly have been unprecedented, nor were they a new topic. The actress extensively addressed them in her book, for example.
Democrats on Tuesday tried valiantly to make the tapes into a bad day for McConnell, pointing to those less-than-honorable quips about her mental state. But McConnell and his Republican allies brushed all that off, turning the fight back on to the left. And they think they've got Democrats on the run.
"It's part of a continued pattern behavior that reveals why Main Street hates Washington," said Brad Dayspring, spokesperson for the National Republican Senatorial Committee. "Whether it's Senator Menendez using his office to advocate for a high dollar donor, Leader Reid yucking it up with said donor on a private jet, Senator Baucus using threats and intimidation to push legislation, or now bugs or tapes illegally placed in a Republican campaign office, this 'law be damned' mentality has to stop."
The NRSC used the unproven allegations of illegal bugging to call on every Democrat in town to denounce the tapes and the McConnell campaign instantly turned the Mother Jones story into a fundraising oppurtunity.
Even Democrats are noting the skill of McConnell's spin.
"McConnell is a spin master," tweeted DNC spokesperson Brad Woodhouse. "Was going to go after a woman's decades old mental health issues and now he's just trying to distract from that."
Meanwhile, Mother Jones is spinning McConnell's spin into cash for its own coffers. The non-profit publication relies on reader donations, and when McConnell went on the attack, the Mother Jones fundraising e-mail went out. It's not uncommon for MoJo to do turn its scoops into fundraising pitches — after the magazine broke the infamous 47% tape during the elections, it launched a fundraising drive. But with McConnell and his allies accusing the progressive news site of being something other than a media organization after the tapes were published, it seems the left can benefit from McConnell's spin machine, too.
Update: David Corn of Mother Jones says the fundraising message wasn't timed to his release of the McConnell tape.
"The fundraising note on our site today is a total coincidence. We're doing a fundraising drive this week, as we often do," he wrote. "And it so happens the McConnell story was posted today. There was no coordination."