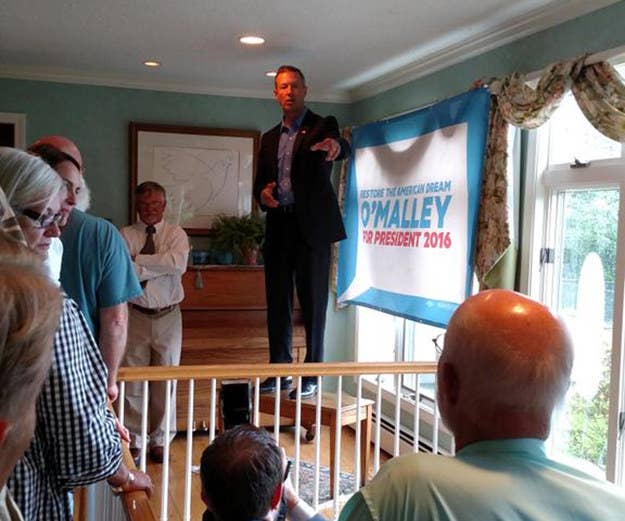 BEDFORD, New Hampshire — Martin O'Malley's push to become the progressive alternative in the Democratic presidential race does not extend to the fight over the PATRIOT Act.
Near the end of his second event of the day, a crowded meet-and-greet at a supporter's home perched on a Granite State mountainside, O'Malley raised the raging Senate fight over the PATRIOT Act unfolding in Washington as he spoke.
"We are right now, and I know it's hard to believe when you see some cable news stations, when you see Congress threatening to adjourn before fixing the PATRIOT Act, the fact of the matter is we are on the threshold of a new era of American progress," said O'Malley, the former governor of Maryland, in part of a longer answer about how he would break the gridlock in Washington since 2011.
Rand Paul, a Republican senator from Kentucky, led the Senate to a rare and highly contentious Sunday session while O'Malley spoke in Bedford. Paul promised to use Senate procedure to force an expiration of the PATRIOT Act over his concerns over domestic surveillance programs. Paul's effort has earned him the ire of some Republicans — and the support of some progressive groups like the ACLU and NAACP who are wary of the domestic surveillance programs.
In his first 48 hours as a presidential candidate — going from Baltimore, the city he led as mayor, to Iowa and New Hampshire, two states he needs to make a mark in if he wants to have any chance at defeating Democratic front-runner Hillary Clinton — O'Malley has often touted himself as a progressive alternative, promising vigorous opposition to President Obama's trade-policy plans and suggesting Clinton is too close to Wall Street to take on the problems of the middle class.
When it comes to Paul's push in Washington, however, O'Malley stands in the mainstream. In a brief Q&A with reporters after the house party, he told BuzzFeed News Congress needs to pass the USA Freedom Act, which has been pitched by supporters as a package to reform the PATRIOT Act. USA Freedom is supported by the White House and a bipartisan coalition in Congress and viewed with skepticism by libertarians and progressives who say it doesn't do enough to shut down domestic spying programs they say are in conflict with the Constitution. O'Malley said he supported the package but proposed a couple of additional measures he said would go farther, such as a public advocate in FISA courts, the secret judiciary that rules on government surveillance requests.
O'Malley warned that Paul's actions in the Senate on Sunday could put Americans at risk.
"I think we could be less safe if we resort to obstructionism when it comes to something as important as protecting our homeland from the threat of terror attacks," he said.