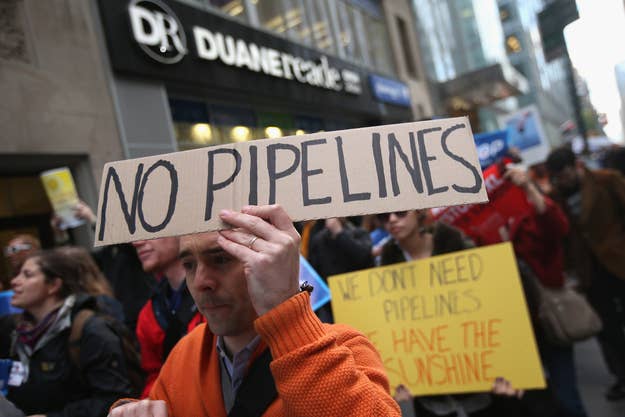 WASHINGTON — President Obama is heading to Baltimore Friday for what the White House is billing as "his second Middle Class Jobs and Opportunity Tour." The brief trip out of DC may also prove to be a detour into the politics of Keystone, which have caused deep divisions in the Democratic base.
Obama is scheduled to make a stop at Ellicott Dredges Friday, just a day after Ellicott president Peter Bowe testified before a Congressional subcommittee and called on Washington to approve the controversial Keystone XL oil pipeline.
Bowe testified on behalf of the National Association of Manufacturers Thursday before a subcommittee of the House Committee On Small Business at a hearing about Keystone. He called on the federal government to build the pipeline, telling the subcommittee that the pipeline is a job creator. He said the project would create longterm employment for workers in the dredging sector.
"For us, it's all about jobs, not construction jobs for the pipeline itself, but ongoing jobs every year for decades to come, all related to the production of oil from the Alberta oil sands deposits," Bowe said in his prepared remarks.
Obama hasn't said if he supports Keystone, and the administration has noted the State Department is still reviewing the pipeline. But a vocal group in his base hope Obama will publicly reject project. Republicans have criticized Obama over delays in the pipeline decision, saying he's playing politics with the project. The White House says it won't take a public stance until State has completed its review.
Most recently, Keystone opponents have hung their hopes on Vice President Biden, who they believe to be a strong pipeline opponent.
Progressive activists have continued pressuring Obama on Keystone, protesting his events and publicly calling on him to shut the pipeline project down. The advocacy group founded from the remnants of Obama's reelection campaign, Organizing For America, has upset progressives by saying it will steer clear of the Keystone debate until the administration takes a stand on the project.
Update: In keeping with standard practice when talking about Keystone, which is under review at the State Department, the White House referred questions about the project to state.