Keystone Debate Now Rests On Obama's Shoulders Alone
End of public comment period on KeystoneXL pipeline environmental review ends the focus on State Department. "It's up the president to decide yes or no, and it's an easy yes," says American Petroleum Institute.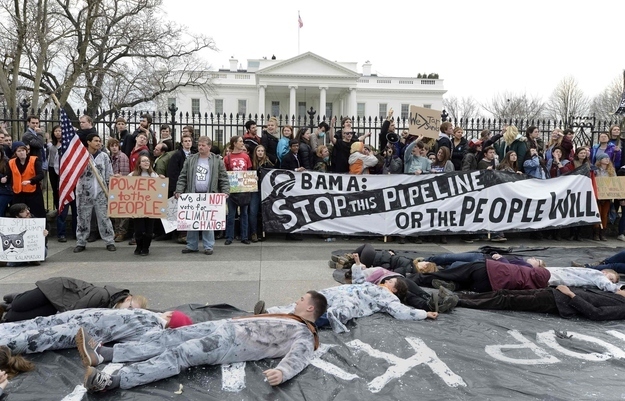 WASHINGTON — Friday marked the end of the public comment period on a key environmental study the State Department will use to make its final decision about whether the KeystoneXL pipeline is in the United States' best interest.
It also marks a shift among activists on both sides: The Keystone debate is up to President Obama now.
For the last 30 days, the public has been invited to comment on the "National Interest Determination" at State, a process that ended with a bang Friday as anti-Keystone groups submitted around two million signatures in opposition to the pipeline project and the pro-pipeline American Petroleum Institute submitted 500,000 of its own. Now comes a 60-day period when other federal agencies can submit their views on Keystone to State before, eventually, Secretary of State John Kerry decides if the Canadian oil pipeline is good or bad for the United States.
But both sides of the argument are essentially skipping Kerry and turning their attention fully to Obama, who will be the one to make the final call about whether or not the new stretch of pipeline is constructed.
The White House has been tight-lipped on the subject for a long time, deflecting questions about Keystone XL to State while the assessment is underway. But with the public-comment period closed, advocates on all sides say pressure will mount on Obama. How long it takes Obama to make his decision after Kerry offers him advice is unclear.
And no one's ready to predict what will happen.
"It's Obama who's going to make the final call," said Ross Hammond, senior campaigner at Friends Of The Earth.
"Given how they don't have an approved route through Nebraska now," Hammond said, referring to the recent court ruling against the Nebraska pipeline route, "I'd say if he is going to make a decision soon it would have to be no. If he waits until after the midterms then it's anybody's guess."
The API told the International Business Times that the "time for study is over" when it comes to Keystone. An official at the oil industry lobbying group told BuzzFeed that the ongoing crisis on Russia's border has given impetus to some pushing Keystone.
Russia's command of natural gas distribution in Europe has made it harder for U.S. allies to unite around tough sanctions following Russia's invasion of the Crimea. That's led some to say the Crimean conflict makes the case for building the pipeline.
"No one wants to see a crisis prompt policy. [KeystoneXL is] a good policy regardless of what happens in the Ukraine," said Sabrina Fang, API spokesperson. "The reasons why we want that still remain and in light of what's going on overseas, a lot of people have been talking about it because energy is such a powerful issue and it can be the deciding issue in global politics."
API is also feeling pretty good about recent polling showing broad public support for the pipeline project.
Environmentalists have their own numbers to point to. Becky Bond, the leader of the progressive group CREDO and the de facto commander of an army of tens of thousands of activists she says are committed to anti-Keystone civil disobedience, says her group is ready to take to the streets if Kerry recommends the pipeline. But she pointed to recent rhetoric from the secretary of state she believes suggests Kerry will rule against the project.
"Secretary of State John Kerry recently called climate change a weapon of mass destruction, and I believe he will be honest in his recommendation to the president and tell him that the Keystone XL pipeline is not in national interest of the United States," Bond said. "I hope I'm right, but if I'm wrong and he recommends the president approve this climate killing pipeline I stand ready, along with tens of thousands of other Americans, to get arrested in protest."
The State Department has not counted up the total number of public comments received on Keystone XL, but an official said the comments will be taken into account as a final ruling is made.
"The National Interest Determination will reflect the Department's consideration of public comments," an official said.