Team Kamala Harris Sees Path To D.C. After Holder Resignation
Will the next attorney general of the United States be the attorney general of California?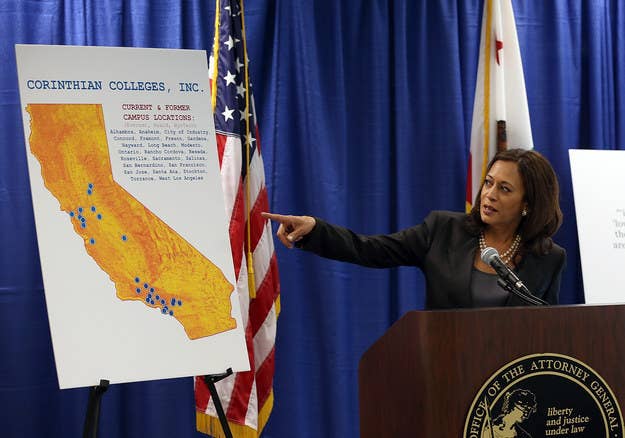 WASHINGTON — Supporters of Kamala Harris, California's popular attorney general, say the departure of Eric Holder could clear a path for Harris to take over as America's top law enforcement officer.
"She'll certainly be in the mix," said Steve Philips, the founder of the liberal group PowerPac.org and a leading Harris backer. "What she really is is California's next governor, but I guess they're not mutually exclusive."
President Obama likes Harris. After Holder, Obama's close personal ally, announced his resignation Thursday, Harris' name quickly appeared on D.C. short lists for the next attorney general of the United States.
"I am honored to even be mentioned, but intend to continue my work for the people of California as Attorney General," Harris told BuzzFeed News in a statement when asked about the speculation. "I am focused on key public safety issues including transnational gangs, truancy and recidivism."
Harris' name has been part of the conversation for years as a potential replacement for Holder. Appointing her would allow Obama to continue using the Justice Department as the leading edge of progressive social policy in the administration. Harris has built up a record on racial and economic issues that's amassed massive support from progressives, and she would be only the second black U.S. attorney general.
She'd also be just the second woman to be attorney general, which could lead to pressure on the White House from Democratic women, many of whom also love Harris. One prominent Democratic women's advocate in Washington noted dryly, "We're well aware that only one woman has ever held this job."
The White House was trying to shut down rampant speculation about Holder's replacement in the hours after his resignation was announced, promising that Obama would not announce a new nominee in remarks at the White House Thursday that will formal announce Holder's eventual exit from the administration. (Holder will stay on during what is likely to be a long and highly politicized Senate confirmation process for whomever Obama selects.)
A Harris nomination would no doubt bring up the awkward April 2013 apology Obama extended after calling Harris "brilliant," "dedicated," and "by far, the best looking attorney general" at a California fundraising event. Progressive columnists and women's groups called the remark offensive. Harris accepted the president's apology, saying through a spokesperson, "The attorney general and the president have been friends for many years."
Adam Serwer and Ben Smith contributed reporting.