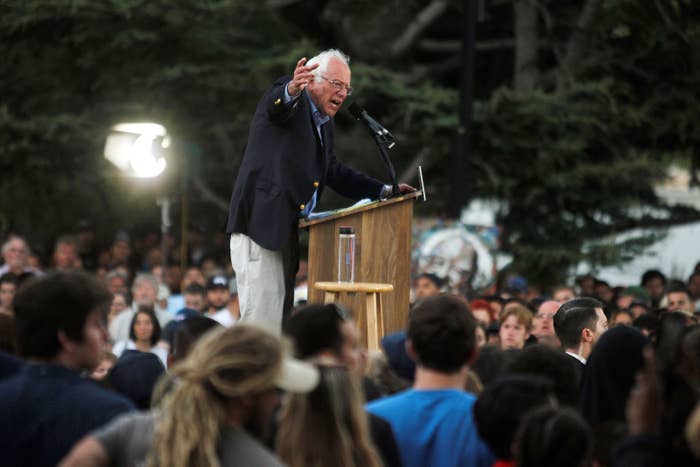 FAIRFIELD, California — The Bernie Sanders crowds have always been full of young people. A crowd of around 1,200 in the unbearably sunny quad of Solano Community College here Friday featured many of those younger voters who Bernie has counted on to fuel his grassroots.
In California, the last big state on the Democratic nominating calendar, Sanders told his supporters there is only one way to feel the Bern one last time.
"If you hear that there is a large voter turnout, we will win. If you hear that there's a very large turnout, than we will win by a lot," Sanders told the crowd. "If you hear that there's a small voter turnout, we will lose. It's just the facts."
When it comes to young voters, Sanders' campaign is going all-out to identify and turn out an electorate often ignorant of primary voting rules and less-than-reliable on Election Day.
The rallies on college campuses are a part of that plan — so is a complicated Twitter-based outreach program that targets young Californians by finding out, in part, if they're fans of Drake or the Arctic Monkeys.
The program is part of Sanders' cutting edge digital outreach effort that has netted the Vermont senator millions in small donations and fueled a campaign that burst through all expectations.
For the first time, Sanders aides described the Twitter scheme, which a company source confirmed was a first for a presidential campaign.
The Sanders campaign is using Twitter target California with videos on topics like diversity, LGBT, and fracking. This week alone, more than 1 million of those young voters have watched a Sanders ad on Twitter, according to a company source.
Using paid Twitter advertisements in a political campaign is not new. And even as Snapchat grows in popularity, especially among the younger set, Twitter remains a way to reach a lot of people quickly.
But Sanders is using a new tool — called "a conversational ad" by the company — to help his supporters spread his message.
In essence, the Sanders ads write a tweet for users that users then blast out to their own followers. It's not a retweet — it's a new tweet, but it's one written by the Sanders campaign.
Clicking that "Tweet #VoteForBernie" button makes a tweet like this for users to send to their followers.

Bernie is the first presidential candidate to use the tool. A Twitter source said the "conversational ads" are getting the most views of any of Sanders' youth-targeting Twitter spots.
And though they look like they come from the main @BernieSanders account, they only appear in the feeds of people Sanders wants them to.
The only people who see these Twitter spots are:
*In California
* Are similar to the followers of music and fashion Twitter accounts like: @drake, @ArcticMonkeys, @tavitulle, and @ninagarcia.
* Are not users excluded from the list because they are likely Republicans.