@JoeBiden Hasn't Tweeted In More Than Five Months
Amid questions about his 2016 preparedness (and plans), Team Biden appears to have abandoned its political Twitter presence. Update: Biden official says he doesn't have control over the account.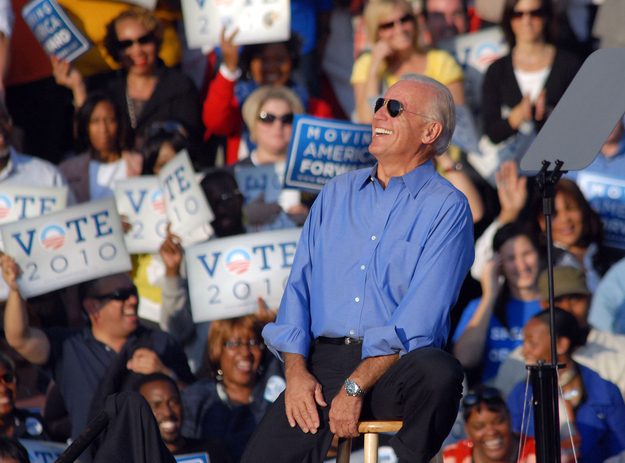 WASHINGTON — What happened to @JoeBiden?
The Twitter account set up for Biden by the Obama re-election campaign in April 2012 hasn't posted an update since Jan. 24, when it retweeted a link to a Biden gun violence Google Hangout advertised on Biden's government-run account, @VP.
Amid new questions about Biden's readiness to jump into the 2016 fray if he wants to, the fact that he's let his political account go fallow stands in stark contrast to Hillary Clinton, who's recently created and highly active Twitter account already has more than 100,000 more followers than Biden's political account — the one that, theoretically, Biden can hang onto after his term in office ends.
@VP was created about a year before @JoeBiden, and it has remained Biden's main social media mouthpiece. But in terms of potential reach, it's actually less valuable to Biden than @JoeBiden is. @VP has around 283,000 fewer followers than @JoeBiden (though the value of those campaign-era followers may be on the decline in the months following Obama's re-election).
Meanwhile, President Obama's campaign Twitter account, @BarackObama, has remained active alongside the official @WhiteHouse government account since the election campaign. Organizing For Action, the keepers of the Obama account and the group founded out of the remnants of the campaign organization that created @JoeBiden, did not respond on the record about the account. (See update for details on who runs it.)
Biden's office declined to speak about the @JoeBiden account on the record. An official told BuzzFeed Biden's only official, active Twitter account is @VP.
Letting a social media opportunity go untaken is rare for Biden, who has cleverly turned his living hashtag personality into real-world political capital. The latest share-worthy enterprise from the vice president's team is Being Biden, a regular series of audio essays by the vice president that combine a photo with Biden's musings on the immigration reform process to reflections on how he does his job by Julia Louis-Dreyfus, who portrays a fictional vice president on HBO's Veep.
Being Biden is a hit among the Washington, D.C., press corps, and it's the kind of thing one would expect to get a lot of traction among the wider audience on @JoeBiden. But so far, not a single episode has appeared on the account.
Update: A Biden official told BuzzFeed that Biden doesn't control @JoeBiden.
"The Obama/Biden 2012 campaign is still an existing legal entity (Obama for America) and they still have control of the account," the official said.