Joe Biden Took Bernie Sanders' Side On College Tuition
The vice president backed free college tuition in his speech Wednesday, putting him on the Bernie Sanders side of the progressivism-vs.-pragmatism debate dividing the Democratic field.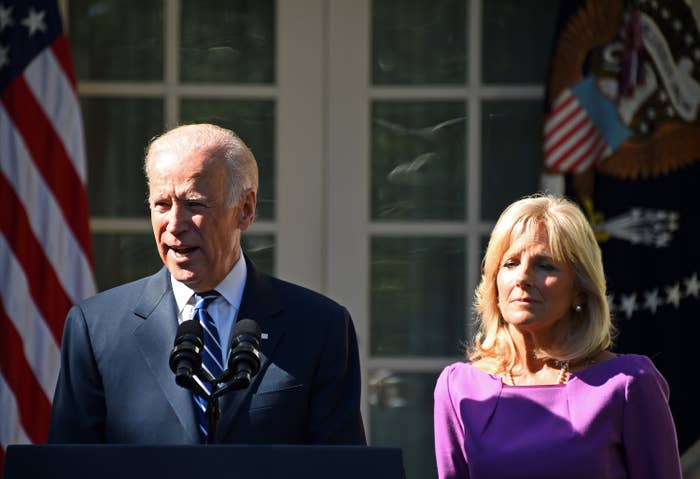 WASHINGTON — Perhaps the key policy distinction between Vermont Sen. Bernie Sanders and his rivals for the Democratic presidential nomination is the issue of free college tuition. And when Vice President Biden ended the speculation he might enter the race with a hard no in the White House Rose Garden Wednesday, he appeared to throw his support behind the Sanders side of the argument.
Sanders wants to raise billions from a tax on Wall Street and use it to make public colleges and universities tuition-free for anyone who can get in. Former Secretary of State Hillary Clinton has rejected that idea as untenable, favoring instead what she calls "debt-free college" — expanded work-study programs and federal grants that would allow students who can't afford public college to get more free money to help and more opportunities to earn the rest.
In his Rose Garden speech, Biden backed the Sanders side of the argument.
"We need to commit. We are fighting for 14 years — we need to commit to 16 years of free public education for all of our children," Biden said. "We all know that 12 years of public education is not enough. As a nation, let's make the same commitment to a college education today that we made to a high school education 100 years ago."
Sanders noted the endorsement.
"I look forward to continuing to work with him to address the major crises we face," he said in a statement sent to reporters by his campaign after Biden announced his decision. "He understands the need to rebuild the middle class; and to address income and wealth inequality, a corrupt campaign finance system, climate change, racial justice, immigration reform, and the need for publicly-funded higher education."
Clinton has framed fully-funded public college and university tuition as wasteful because it would provide free college to wealthy families who can already afford it. She's proposed expanding programs that let qualifying students work off their college costs and get debt-free financial assistance upfront.
"I'm a little different from those who say free college for everybody. I am not in favor of making college free for Donald Trump's kids," she told a woman in New Hampshire earlier this month. "I am in favor of making college free for your grandson by having no-debt tuition."

The Sanders plan has drawn criticism from some progressives, who say that students who pay no tuition will still have to find the funding for room and board and other college expenses. When former Maryland Gov. Martin O'Malley announced his debt-free college plan, a spokesperson for the Progressive Change Campaign Committee told Al Jazeera Sanders' plan was "less progressive than O'Malley's because the senator's plan focuses solely on tuition and not other expenses that can add to students' debt burden."
Sanders' plan calls for expanding existing financial aid and work-study programs to help defray the nontuition costs of low-income students. Clinton's plan aims to make child care on campus very inexpensive and use programs like Americorps to provide grant money to pay for costs beyond tuition.
The PCCC welcomed Biden's comments, saying he embraced an issue progressives increasingly think will be key to boosting young voter turnout next fall.
"Debt-free is an end. Free tuition is a means," Adam Green, PCCC co-founder, told BuzzFeed News in an email. "Sanders and Clinton have competing plans. All take place within the debt-free umbrella."