The Unofficial Spokesperson For Biden's Unofficial Presidential Campaign Could Be A Problem
Joe Biden might run for president. He might not. But the consideration of a run has already drawn him closer to a person — former South Carolina Democratic chair Dick Harpootlian — who could be a liability the moment Biden made it official.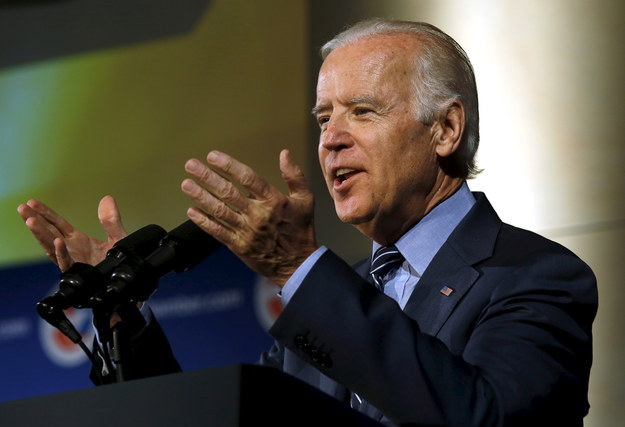 WASHINGTON — For Vice President Biden, the presidential speculation that has lit up political coverage in recent weeks is all about South Carolina. And that means it's all about Biden's loudest, brashest, and most public supporter: former state Democratic Party Chair Dick Harpootlian.
That could be a problem.
Harpootlian is an old-school politico, with connections across South Carolina that are the envy of his fellow Democrats and a political acumen that draws him praise from the most prominent Republicans in the state. He's Biden's best ally should a presidential run be afoot: He's got money, connections and at least could conceptually put the South Carolina primary in play, according to observers in the state.
But, in an era in which an increasingly diversified Democratic coalition stresses the politics of inclusive language, Harpootlian's got a mouth on him — one that sometimes brings joy to Democrats, often brings eyerolls, and on many occasions has at least skirted with the line if not outright crossed it.
"Dick is like a great defensive end in football," South Carolina' last Democratic governor, Jim Hodges, a Hillary Clinton supporter, told BuzzFeed News in an interview earlier this month. "He's going to get you a lot of sacks but on occasion he's going to get you a roughness call."
If Biden runs, for instance, Harpootlian's infamous antagonism toward South Carolina's Republican governor, Nikki Haley, could prove a particular woe for the Biden team, particularly as Haley has seen a recent national political resurgence after her successful bid to take down the Confederate flag from the grounds of the state capitol. In 2013, he predicted the defeat of Haley, the daughter of Indian immigrants, by promising his party would "send Nikki Haley back to wherever the hell she came from." The line came while Harpootlian was at a party event featuring Biden as the keynote speaker. Harpootlian called Republican outcry at the comment "attempting to feign insult" and told Politico he meant "Lexington County" when he said "wherever the hell she came from."
A couple days later, he added another layer to the clarification for the comments seen as racially tinged that was seen as tinged with sexism.
"She's from Bamberg, South Carolina, where she was an accountant in her parents' clothing store called Exotica," Harpootlian told MSNBC. "All I'm suggesting is she needs to go back to being an accountant in a dress store rather than being this fraud of a governor that we have." The interview blew up, and Jon Stewart condemned it.
A year earlier, Harpootlian became news at the Democratic National Convention just across the South Carolina border in Charlotte. He said Haley's participation in daily Republican press conferences held in a basement near the site of the DNC meant she was "down in the bunker a la Eva Braun." It is a general rule of thumb that Nazi comparisons are far over the line, and Republicans, led by party chair Reince Priebus, did what anyone would and attacked the comment.
On the floor of the DNC, one South Carolina delegate told a reporter, "Dick gets a little carried away sometimes."
Harpootlian did not see it that way. "Hell no. What am I apologizing for?" he told CNN. "I don't even know if Eva Braun was a Nazi or not, but I know she dated one." He also said he was surprised to learn Haley had feelings to be hurt, and said his comment was about the location of GOP's convention press conferences, not the political leanings of the governor.
In the current cycle, Harpootlian has been a go-to source for comments about Hillary Clinton that other Democrats won't make, or at least won't make on the record. "There's always another shoe to drop with Hillary," he told the Washington Post in March. "The chatter down here is, 'Is this the best we can do?'"
He later told told Bloomberg Clinton was "uniquely unqualified to run a campaign."
Harpootlian has been a close political ally of Biden's in the past, and has stepped up into a bigger role as the new round of Biden speculation began. Earlier this month, Harpootlian — who made his fortune as a trial attorney in South Carolina — gave $10,000 to Draft Biden, the super PAC pushing Biden to run. Harpootlian also joined up with the group, pledging to raise money for it, and donate more of his own.
Harpootlian is quoted constantly in stories about a Biden presidential run, but his penchant for over-the-top rhetoric could mean he quickly becomes more trouble than he's worth to a Biden campaign. Earlier this month, while Biden was in South Carolina on vacation and mulling a bid, he met with Harpootlian for an hour, according to the New York Times. After the meeting, Harpootlian was once again Biden's chief presidential spokesperson, telling the paper details of the meeting and plans laid down by the vice president to take further steps down the road toward a run.
Draft Biden recently overhauled its communications and fundraising infrastructure, adding in more experienced talent to manage media relations and raising money that could quickly be converted into resources for Biden's presidential campaign, should the time come. The expansion at Draft Biden could mean Harpootlian's role as unofficial spokesperson for the vice president might diminish, at least when it comes to on-the-record quotes.
A top aide at Draft Biden praised Harpootlian as a Biden ally, as a Democratic strategist, and as a political supporter. The South Carolinian is a consistent and reliable supporter of Biden — unsurprisingly, perhaps, there is a lot of positive sentiment about him among people ready to help should Biden decide to run. Harpootlian is not a central strategist at the group and is not on daily strategy calls or part of the regular daily routine at Draft Biden, according to the aide. The source declined to comment on Harpootlian's incendiary comments about Haley in the past, saying those questions were best left to Harpootlian himself. Questions about what role Harpootlian would play in a presidential campaign were best left to a potential Biden campaign manager, the aide said.
Harpootlian did not respond to several emails. Biden's office declined to comment on the vice president's current relationship with Harpootlian.
Though Harpootlian has been one of the harshest critics of Clinton and her campaign, her supporters in South Carolina do not have any hard feelings.
"You want someone like Dick on your team. I'm on Hillary's team and I say you want someone like Dick on your team," Bakari Sellers, a former Democratic state House member and current vice chair of the South Carolina Democrats, told BuzzFeed News in an interview early this month. "I would definitely rather have him on my team than cutting us every day."
Sellers, 30, is leading voice in a new generation of South Carolina political leaders. He said Harpootlian's style was effective.
"Dick Harpootlian, and we're moving away from this because of social media and because of the role South Carolina, Dick Harpootlian is the last true kingmaker," he said. He recounted a story of another Democratic presidential candidate asking to be Harpootlian's "second choice" during a meeting he witnessed in late July.
"I don't think it's outdated," Sellers said, when asked if Harpootlian's tone was missing the mark in modern politics, where the outbursts of supporters can often come back to haunt a candidate. "Dick is gonna Dick. That's the best way you can put it. He's gonna do what he's gonna do."
The Biden for president idea was considered years ago, and has reemerged in recent weeks, amid reports that some in the VP's orbit are pressing him to take on Clinton and try a third run for the White House, particularly in the midst of some concern about Clinton's standing.
Republicans in South Carolina say Harpootlian fits the Biden brand, even if that means comments that might not be the most helpful to a presidential candidate.
"Voters seem to want authenticity above all else...so it's no surprise Joe Biden and Dick Harpootlian might join forces," Matt Moore, South Carolina Republican Party chair, told BuzzFeed News. "They are the polar opposite of Hillary Clinton and her scripted campaign."
A Biden run might be an uphill climb, but Harpootlian has nothing to lose and has the skills necessary to make it at least uncomfortable for the Clinton team in South Carolina, according to observers in the state.
"There's really no downside for Harpootlian," Moore said. "He will never again be on the Clinton's Christmas card list."
In South Carolina, where rowdy politics basically rule, Harpootlian's tongue hasn't yet lost him the hearts of many politicos in the state, regardless of the side they're on.
"Most people don't talk shit about him publicly," said a prominent South Carolina Republican strategist. "He's an awesome guy."