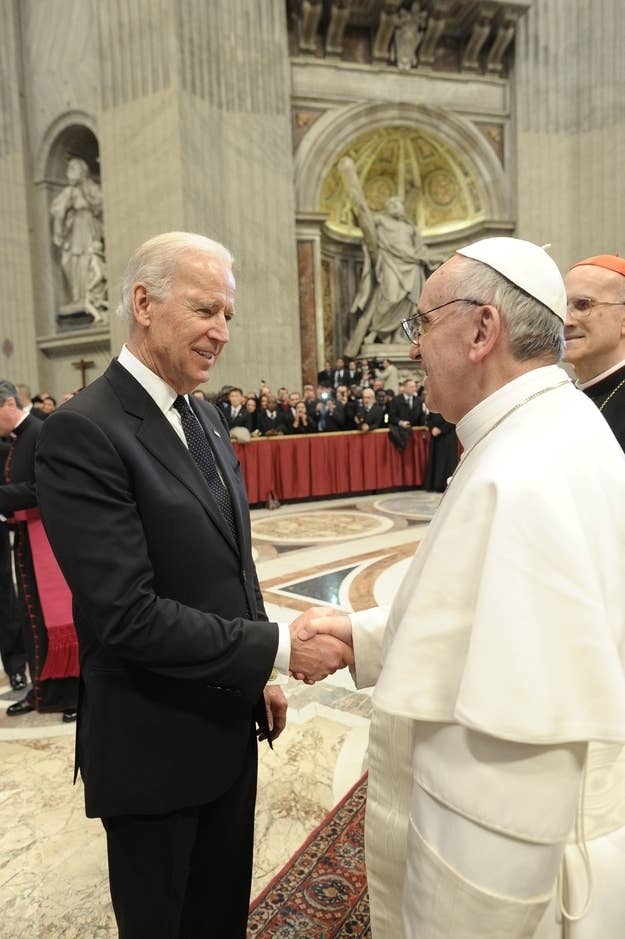 WASHINGTON — Vice President Biden went out of his way at a speech to the United Auto Workers union Wednesday to take on one of Pope Francis' strongest critics.
"A couple weeks ago Ken Langone, who I don't know, a billionaire founder of Home Depot, predicted that the pope — Pope Francis' critique of income inequity will be, quote, 'a 'hurdle' for very wealthy Catholic donors, who seem to think hurt feelings trump the teachings of the Bible," Biden said, referring to a December interview with the Home Depot founder.
Langone claimed to CNBC that one potential major donor to a cathedral restoration project was concerned about Pope Francis' economic rhetoric about capitalist economies.
"I've told the cardinal, 'Your Eminence, this is one more hurdle I hope we don't have to deal with. You want to be careful about generalities. Rich people in one country don't act the same as rich people in another country,' " Langone said he told Cardinal Timothy Dolan of the donor.
Biden appeared amazed by the comments as a Democrat pushing the Obama administration's income equality message. As the most prominent Catholic on the president's team, Biden seemed to be personally offended by the comments.
"As practicing Catholic, bless me, Father, for he has sinned," Biden said. He paused. "I mean, come on. Come on! What are we talking about today?"
It's not the first time Biden has embraced Francis, a pope who has energized the left in America despite his adherence to the church's positions on social issues, while alienating some on the right with his economic views. President Obama is set to meet with Francis at the Vatican in March, and the president has said he's "hugely impressed" with the pontiff.
Conservatives like Rush Limbaugh and Sarah Palin have condemned the pope as a purveyor of "pure Marxism," saying they've been "taken aback" by some of his comments criticizing capitalism for not doing enough for the poor. Even Catholic conservatives have distanced themselves from Francis on economic issues. Wisconsin Rep. Paul Ryan, a Catholic, dismissed Francis' critiques of capitalism, due to his experiences growing up and living in South America.
"I think they have crony capitalism in Argentina, where you have real exploitation," Ryan told ABC News recently. "That is not the free market. That's crony capitalism."
Biden has been a prominent supporter of Francis since he became pope last year. The vice president attended the installation of the new pope last year and said he "shares a vision that all of us share, to reach out to the poor and the dispossessed."
At a TIME magazine banquet last April, after his visit to the Vatican, Biden put his connection to Francis in personal terms.
"In his homily he spoke movingly about our commitments to one another, not just as people of faith, he emphasized, but as human beings," Biden recalled. "We all know we have obligations to each other. We know. We know we have a duty to look out for one another, to keep our hearts and minds open for those who are in need. Those are the values that I was taught...Most of us are here because we felt some connection, some obligation, some responsibility to the people around us."