Jim Webb Snubs DNC Summer Meeting Over Clinton Favoritism
Webb is busy moving his daughter into college this week, but a top aide to his campaign told BuzzFeed News his absence is also meant to send a message.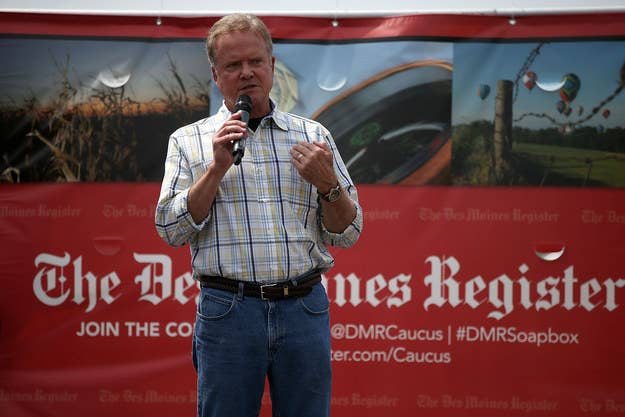 MINNEAPOLIS -- Most of the Democrats running for president will take the stage Friday at the Democratic National Committee's Summer Meeting, but not former Virginia Sen. Jim Webb.
Webb told party officials last week that he planned to skip the event due to family obligations, namely moving his daughter into college.
But top campaign aide Craig Crawford told BuzzFeed News late Thursday that Webb's absence was also meant to send a message that the conservative Democrat was not happy with the event or the party's recent move to enter a joint fundraising agreement with his opponent Hillary Clinton.
"What's the point of time limited 10 minute speeches and a hospitality room?" Crawford told BuzzFeed News in an email. "And considering the DNC announcement of their joint fundraising deal with the Clinton campaign haven't they just turned themselves into another poor parody of the Sopranos?"
The joint fundraising agreement means Clinton can use her extensive fundraising network to help fill the coffers of the cash-strapped DNC, according to Democrats. But to Webb's team, it's another sign the DNC infrastructure is being lined up behind Clinton. And that's part of the reason DNC members won't see Webb on stage along with Clinton, former Maryland Gov. Martin O'Malley, Vermont Sen. Bernie Sanders, and former Rhode Island Gov. Lincoln Chafee.
"The DNC and the Clinton campaign must be be channelling former AIG chairman Hank Greenberg, who once said, 'All I ask for is an unfair advantage,'" Crawford said.