Holder Suggests NYT Journalist Leak Investigation Case Will Be Resolved Soon
The Department of Justice has tried to compel reporter James Risen to reveal his sources.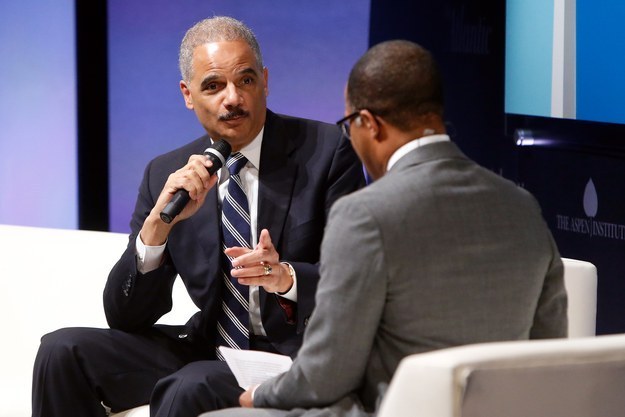 WASHINGTON — Attorney General Eric Holder suggested Wednesday that it's unlikely former New York Times reporter James Risen will end up in jail for refusing to disclose his sources to federal prosecutors working as part of the Obama administration's unprecedented crackdown on leakers.
Asked at a Washington forum hosted by the Aspen Ideas Institute if federal prosecutors will be "compelling testimony" from Risen, Holder said, "No, no, no."
"We'll see how that goes," Holder went on. "You know, people have to understand something. We have been in touch with Mr. Risen's lawyers, we've talked about a variety of things. And, you know, if what we have talked about remains true, I think there'll be a resolution of that that will be satisfactory to everybody. But as I said, no one's going to be going to jail. No reporter's going to jail as long as I'm attorney general."
Federal prosecutors have pushed Risen to reveal details of the sourcing in his 2006 book about the Bush administration, State of War. Prosecutors first tried to compel his testimony while George W. Bush was still president, and Holder continued the case when he took over as attorney general after President Obama was elected. Risen has continued to refuse to participate in the case.
Risen's legal team has been positive about their chances as Holder has increasingly signaled that the case will be resolved without jail time for the journalist.
"Holder has said that he would not jail or seek to jail any journalist for just doing his job," Floyd Abrams, the legendary First Amendment lawyer whose firm is representing Risen, said in an interview with BuzzFeed News earlier this month. "We hope that's true, and we'll have to see in a case like that of James Risen, who my firm represents I have to say, whether that is true."
Abrams did not immediately respond to an email about Holder's comments Wednesday.
"I cannot elaborate on what he said," Justice Department spokesperson Brian Fallon wrote in an email when asked about Holder's comments. "But what he said was pretty descriptive in its own right."
Update, 4:10 PM
In an email Abrams said he has not been in contact with the Justice Department about Risen's case, noting that while his firm represents the journalist, he is not personally a member of the legal team.
"I have not been in touch with representatives of DOJ, do not know what the Administration will do and I am not personally involved in the representation of Mr. Risen," he said.