It's Sexy Time For Mark Sanford In South Carolina
In the final days of the special election he hopes will return him to Congress, Sanford gets trolled by Larry Flynt and AshleyMadison.com. Democrats are having fun watching, but are not going to turn the "endorsements" into ads.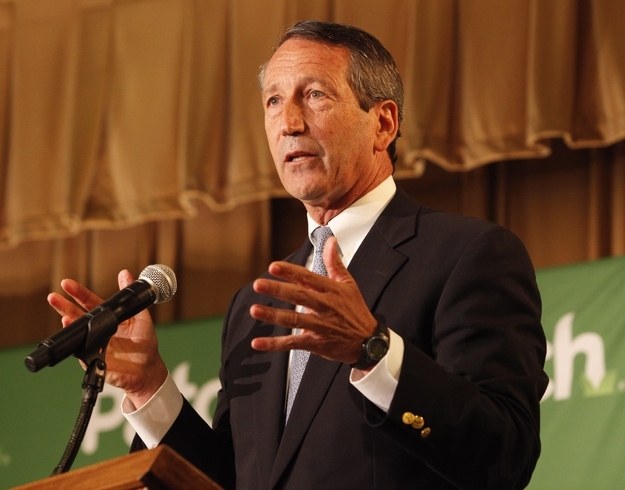 WASHINGTON — Politics 101: if you're running for Congress, you probably don't want Larry Flynt's endorsement.
But in the final week before next Tuesday's special congressional election in South Carolina, Republican candidate Mark Sanford got the honor anyway. Just a few hours after a company advertising extra-marital affairs made him its new public face (presumably against Sanford's will.)
Thanks to Flynt and AshleyMadison.com (which put up a giant billboard featuring Sanford's face in South Carolina) as well as his Democratic opponent Elizabeth Colbert Busch, Sanford's highly publicized affair and subsequent divorce are going to be part of the closing argument in South Carolina. Sanford's only option is to ask the public yet again for forgiveness.
Flynt not only publicly endorsed Sanford Tuesday, he also sent Sanford's campaign a check for $2,600, the maximum contribution allowed by law. In a statement, Flynt said he was helping Sanford out because his fellow Republicans in DC had abandoned him.
"No one has done more to expose the sexual hypocrisy of traditional values in America today. Sanford's open embrace of his mistress in the name of love, breaking his sacred marriage vows, was an act of bravery that has drawn my support," Flynt said. He also noted Sanford "is a liar."
But Flynt congratulated Sanford's remaining GOP supporters for standing by their man, or as Flynt called it, "tossing aside lifelong convictions" and "teaching their children the invaluable lesson that traditional values are nothing more than a scam."
The founder of AshleyMadison.com — who also erected a Pennsylvania billboard praising Newt Gingrich in 2012 and praised Bill Clinton after that — was kinder to Sanford in his "endorsement" posted to the site's blog.
"Mark Sanford has overcome a series of personal and professional hurdles to earn his place back in public service," Noel Biderman said. "While he recognizes the consequences of his actions, he maintains that his affair refined his life, but should not define it."
Colbert Busch has also referred to Sanford's affair in the closing days of the campaign, albeit slightly more subtly than Flynt or AshleyMadison.com. At a debate Monday night, she brought up Sanford's trips to Argentina while governor of South Carolina and said they were an example of his fiscal irresponsibility. He didn't answer the charge, saying he didn't hear it.
Later in the debate, though, Sanford citied Clinton and told the South Carolina voters it was time to move on.
"Do you think that President Clinton should be condemned for the rest of his life based on a mistake that he made in his life?" he said.
For now, Democrats are content to let Flynt and AshleyMadison.com keep Sanford's affair in the headlines in the final days of the special election race. A spokesperson for the Democratic House Majority PAC, which has spent big on TV ads bolstering Colbert Busch in the race, told BuzzFeed the group has "no plans" to turn the Flynt endorsement or the AshleyMadison billboard into an ad.
A national Democratic strategist explained that Democrats don't need to do anything with the endorsements — the fact that they exist will do the work for them. Besides, Democrats feel pretty good about the South Carolina special, and they think their existing closing arguments are enough.
"It's not necessary," the strategist said of using Democratic money to make the public aware of Sanford's new and unwelcome supporters. "It's also not needed."