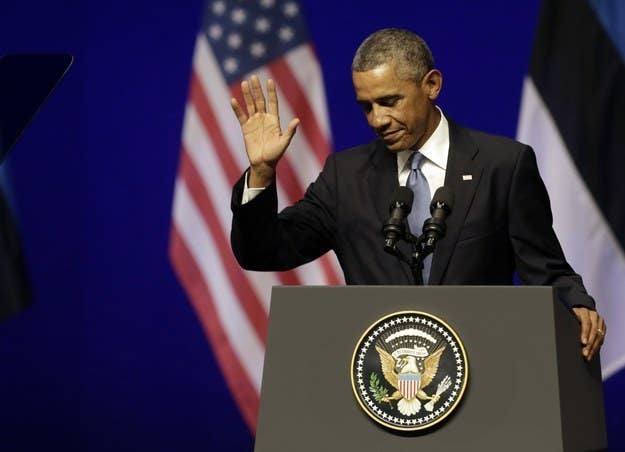 WASHINGTON — President Obama's decision to delay executive action on immigration until after the November elections was the end result of weeks of back and forth within the Democratic Party, and fears the actions would damage the party's election prospects.
According to an activist familiar with details of the decision to delay the immigration announcement, Obama's political advisers became concerned with internal polling in the last few weeks for a handful of states on the midterm elections.
The polling for the vulnerable Democrats was so close — two points apart — that they were afraid the announcement could "put it over the cliff." Additionally, there was growing sentiment that the president would be blamed if they lost and even if the senators won, he might not be able to count on their support for his eventual actions after the election.
Senate Democratic campaign officials Saturday said they were not unhappy, or surprised, by the White House's decision to put the blame on fellow Democrats for his decision. One official said that for weeks, the potential impact of the deportation executive order on a handful of tight campaigns had been on the minds of top Democrats both in the Senate and at the White House.
"It absolutely helps," a staffer for a red state Democrat up for reelection told BuzzFeed News Saturday of the announcement. "In a state like ours, the immigration attacks poll strongly for the opposition, and this news takes away at least some of the immediacy. Now, the specter of executive action from an unpopular president will remain a weapon until November, but being an immigration alarmist just got harder for the Republican Party."
According to one source, as late as a month ago, Senate Majority Leader Harry Reid didn't believe a delay would be necessary, but was relatively quiet on the issue this summer.
As Senate Democrats made their nervousness known in recent weeks, though, immigration activists in Washington rushed to put together a counter argument.
Over the last month or so, people familiar with the process said, immigration activists argued vociferously that the president should keep his promise to implement as many changes to immigration policy as he could without Congress, saying the delay would have real impacts on families facing deportation.
"Senate Democrats were communicating a clear message to the press starting a few weeks ago," said Angela Maria Kelley, the vice president for immigration policy at the Center for American Progress, the progressive think tank often closely aligned with the administration. "As that became apparent, there was more communication" with the White House from immigration activist groups.
A White House official told BuzzFeed News Saturday that activist groups had been notified ahead of the president's announcement.
Kelley said activists argued on the "human" and "economic" levels in recent weeks. They noted millions of undocumented families live in fear of deportations and said keeping current policies the White House intended to change in place was a kafkaesque scenario that would impose real pain. Kelley said activists told the White House "there was a strong economic case to be made," too, noting that the sooner undocumented workers are able to get legal status, the sooner they'd begin paying taxes.
At root, immigration activists felt like they had been waiting long enough.
"'You promised' was part of that," Kelley said, when asked to describe the fight with the White House.
Janet Murguía, president of the National Council of La Raza, said the White House told immigration advocates to be practical. With polls extremely close ahead of the November elections, Democrats argued that rocking the boat made little sense.
"Their response was we should be looking at substance over timing," she said. "Our response to that was that substance and timing converge here."
When Obama sided with the Senate Democrats it felt like he was taking his Latino base for granted, Murguía said.
"You could hear it as, 'You don't have any other place to go,'" she said. "For us, that's disrespectful."
Murguía has often clashed with the White House, once calling Obama the nation's "deporter-in-chief."
But CAP is often a White House-allied organization. The think tank's founder, John Podesta, is now a top White House aide. Kelley said news of the delay Saturday morning was "like a sucker punch" for activists and warned the White House will have to rebuild its relationships with Latino groups now. She said activists will now expect sweeping executive actions come the fall.
"If you think a guy's going propose to you and he suddenly says, 'Oh, I'm going to do it in a couple of months,' you want a 2-carat ring instead of a 1-carat ring," she said.
If few were surprised by the administration's decision on Saturday, both activists and Democratic operatives both argued the process could have been handled better.
Chris Newman, the legal director for the National Day Laborer Organizing Network (NDLON), said polling data about the close Senate races wasn't new information. He characterized the overall timeline from the administration as a political gambit to elicit Republican action.
"They had that polling data for months and were hoping it would shift," he said. "It appears that everything they did was designed to elicit an overreaction from Republicans and wasn't intended to get something done. It looks like they pushed the timeline back as a carrot to get Republicans to threaten impeachment and a government shutdown."
One Senate campaign source panned the administration's handling of the announcement, arguing that any number of "excuses" would have been better than simply saying Obama was worried about being blamed for losing the Senate.
"He could have come up with a better excuse, some of them real," this source said. "If it was me, I'd have said we need comprehensive immigration reform … and if somebody lost their seat [because of the executive order] comprehensive immigration reform would be dead for 20 years."
The official seemed more resigned than anything else — noting, "They had some big wins in the first term, but since then, nothing," of the Obama administration's legislative efforts as well as their chronic messaging missteps.
Kate Nocera and John Stanton contributed reporting.