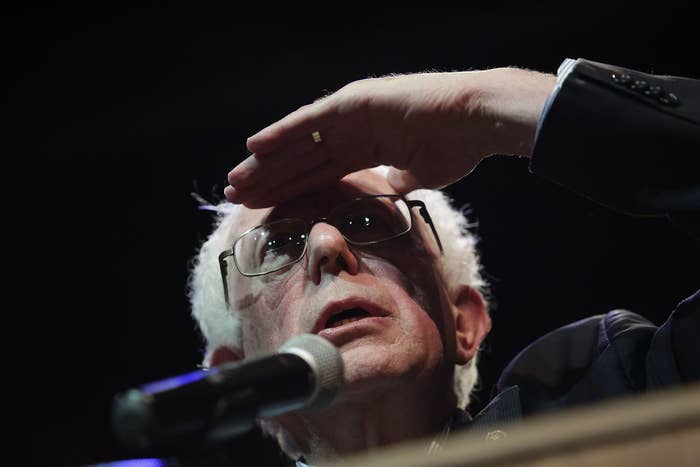 PLAISTOW, New Hampshire — At a campaign stop here Sunday, a Bernie super fan rose and asked her candidate the outstanding question of his campaign.

"My children and I have seen you 35 times across the state," she said to applause. "[A] common thing I hear in crowds is the feeling of powerlessness. They don't feel like they have a voice ... how do we get people so they can vote? Because there's so many places where it's so hard to get where they need to be to vote, it's so hard to get their names registered. What would you do to help people be able to vote?"
The central cliche of politics — that it all comes down to turnout — is especially true for Sanders, who has proven to be the candidate with some of the most enthusiastic supporters of the 2016 cycle. Whether Sanders can actually win in New Hampshire (and Iowa for that matter) basically hinges on the answer to the Plaistow fan's question.
So far, Sanders has successfully weathered two other existential questions that loomed over his campaign — a turn that few expected when he announced his bid for the presidency.
The first was whether a lefty who wasn't named Elizabeth Warren and was 73 when he started could get the progressive resistance to Hillary Clinton to coalesce behind him. Early on, progressives hedged their bets on Sanders and kept one foot in the Draft Warren camp while praising Sanders for having the courage to run. Eight months, hundreds of packed rallies and a record 2.5 million small-dollar contributions later, there's no longer any question: Bernie's the man for the left. It's even possible, his supporters say, that Sanders can expand his support beyond the Warren fan-types and into the white, working-class electorate Democrats lost years ago.
The second question was whether Sanders, well known in Washington but far from a creature of the Beltway (his first appearance on Meet The Press ever was in 2014 amid presidential speculation, decades into his D.C. career) could legitimately go toe-to-toe with a Democratic machine full-square behind Clinton. Sanders supporters hoped the debates would give Sanders a chance to scorch the establishment earth, but that didn't happen. Sanders has held his own on the debate stage so far but taking on Clinton directly has not proven to be his strong suit. That said, emerging relatively unscathed from the debates has proven to be almost as good as winning them for Sanders. His poll numbers haven't taken off, as his supporters hoped they might after a drubbing of Clinton, but they haven't tanked either. Sanders is doing OK, winning slightly in New Hampshire public polling averages, and still pulling huge crowds in Iowa despite averages showing him 10-15 points behind Clinton.
So, now, what remains is the x-factor: Sanders's enthusiasm and what it means on Feb. 1, when Iowans trudge through the snow to their caucus sites, and a week later in New Hampshire.
Over the weekend, the New York Times reported on Sanders' robust statewide field operation in Iowa, which includes 100 paid staffers and "trained volunteer leaders for each of the state's 1,681 caucus precincts."
The hurdles for Sanders are significant there: Clinton has a massive Iowa field operation of her own, and has the national backing of major labor unions to help pull her voters out. Media attention has largely shifted away from the Sanders-Clinton primary in favor of coverage that focuses on Clinton's chances against various general election candidates.
But while Sanders is on the trail telling his large Iowa crowds he's increasingly convinced he can win the state — an attitude not far off from what aides say privately — the Clinton campaign has been furiously lowering expectations.
"They say they've brought in more individual contributions than any candidate has ever had at this point in a primary," read a Dec. 22 small-dollar fundraising email from the Clinton campaign over the signature of campaign manager Robby Mook. "That means two things: (1) more of his supporters are chipping in to fund his campaign, even though we know we have more support; and (2) when we go into our first contests in Iowa and New Hampshire, we might not have the resources we'll need to really compete." Mook told the Times this week, "We always knew it would be a very close caucus and go down to the wire."
Caucusing is a labor-intensive process, especially on the Democratic side, and usually most people who could caucus on Caucus Day in Iowa don't. Sanders needs first-time caucus-goers to change that pattern for him Feb. 1. Sanders has tried to directly appeal to the less likely voter, speaking often about a general ennui among middle- and working-class Americans he says leads many to stay home when it's time to cast a ballot.
He's also built up a huge network of support among another less-than-reliable electorate: the young voter. Sanders can pack a room with college students whenever he wants, a feat that still seems to surprise him in interviews and on stage. Millennial support has helped to drive his online operation, which remains the envy of most candidates.
But for any of it to matter, it has to convert into votes. Sanders works hard to reach out to the youth electorate, and a key tenet of his campaign is that change will not come unless young people stand up and stay up for the duration of a Sanders presidency. He doesn't so much ask the youth to vote as cajole them into being the change they want to see in the world.
So how's that working out?
On Monday, Sanders spoke before hundreds of young politically active types at the 2016 NH Primary Student Convention, run by the New England College. Students from all over the country, most of them involved in politics already, packed the largest ballroom at Manchester's downtown Radisson, sitting patiently while Sanders addressed them loudly enough that the mics provided probably weren't necessary. He opened the floor up to questions, taking queries on criminal justice, immigration, and why he's a better pick over Clinton.
Afterward, dozens of students rushed to the side of the stage to shake Sanders's hand as he left. Though a nonpartisan event, it was a college event — and that meant more than one Sanders t-shirt in the room. Students milling around after Sanders left were mostly impressed, and said he might have the message to get the youth vote to actually vote.
But that remains a tall order.
"Young people don't vote because they don't see the purpose," said Dominique Diamond, student body president at Southern University in Baton Rouge. He recently ran efforts on campus to get students to turn out for the Louisiana gubernatorial election, and said the struggle to get young people to vote was fresh in his mind. "They don't understand or see the value in a vote when as a citizen you just see [politicians] doing exactly what they want to do versus young people actually seeing their vote count or really matter."
Diamond is undecided in the 2016 primary, and said he wants to hear more from Sanders about how his lofty promises will work practically. But he praised Sanders's student outreach efforts.
"I'm happy he realizes a lot of young people don't vote and that's a big task he's trying to attack. He talked about a lot of key things that will really benefit our society," Diamond said. He urged Sanders to keep talking to young voters, and keep getting specific with them.
"We're hearing the big picture," he said. "But we really want to get down into detail."