Democracy For America Endorses Sanders Over Clinton
Democracy For America endorses Bernie Sanders for president, capping off a good week for the insurgent Sanders.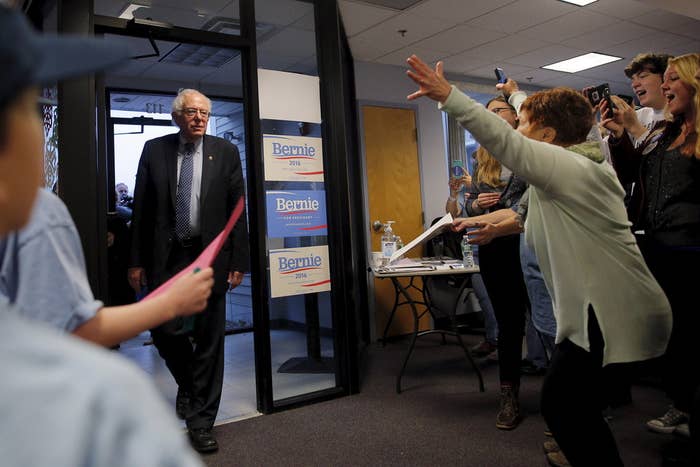 WASHINGTON — Democratic presidential candidate Bernie Sanders added more progressive grassroots support to his campaign Thursday, picking up the endorsement of the Vermont-based Democracy For America, which was founded out of Howard Dean's 2004 presidential campaign.
The endorsement gives the Vermont senator another big piece of the organized progressive movement to leverage for fundraising and grassroots organizing. It's the first time DFA has endorsed in a Democratic primary since its founding, and the group pledged Thursday to throw its weight behind Sanders as the homestretch to the Iowa and New Hampshire primaries begins in earnest.
It's an especially sweet addition to Sanders' lengthy list of lefty boosters thanks to the way the endorsement came about. DFA asked its members to vote for who the group should endorse, as it does for most of its political endorsements. Sanders, Hillary Clinton and Martin O'Malley each made direct appeals to DFA members. Dean, who founded the group and backs Clinton, wrote an email to DFA voters on her behalf: "I hope that Hillary will be your choice," Dean wrote.
But in the end, Dean's support for Clinton fell on deaf ears among the progressive faithful at DFA. Officials for the group said more than 270,000 members voted in DFA's online election. Sanders got 87.9% of the vote, while Clinton earned 10.3%. (O'Malley got a paltry 1.1%, just a bit more than "no endorse," which got .08%.)
The DFA endorsement also signals another shift from progressives who tried to draft Sen. Elizabeth Warren for president over the Sanders effort. The group was one of the founding members of Run Warren Run, which was suspended in June.
The DFA endorsement was the second big pickup of the day for Sanders. He began Thursday celebrating the endorsement of the Communications Workers of America union, which represents around 700,000 workers across the country. The endorsement wasn't a total surprise, given that one of Sanders' top labor advisers is former CWA president Larry Cohen, but it gave Sanders another opportunity to claim he carries the banner of the working-class left.
The DFA endorsement also helps bolster the Sanders campaign's effort to tap into the power of the progressive grassroots. Sanders hopes to rely on grassroots organizing come caucus time in Iowa, where polls have shown he'll have to turn out large numbers of younger voters and first-time caucus-goers to make a strong showing. This week, Sanders campaign sources announced they were nearing 2 million contributions, a big number that helps make Sanders' case that his voters are plentiful and extra motivated to help Sanders surprise Clinton in Iowa.