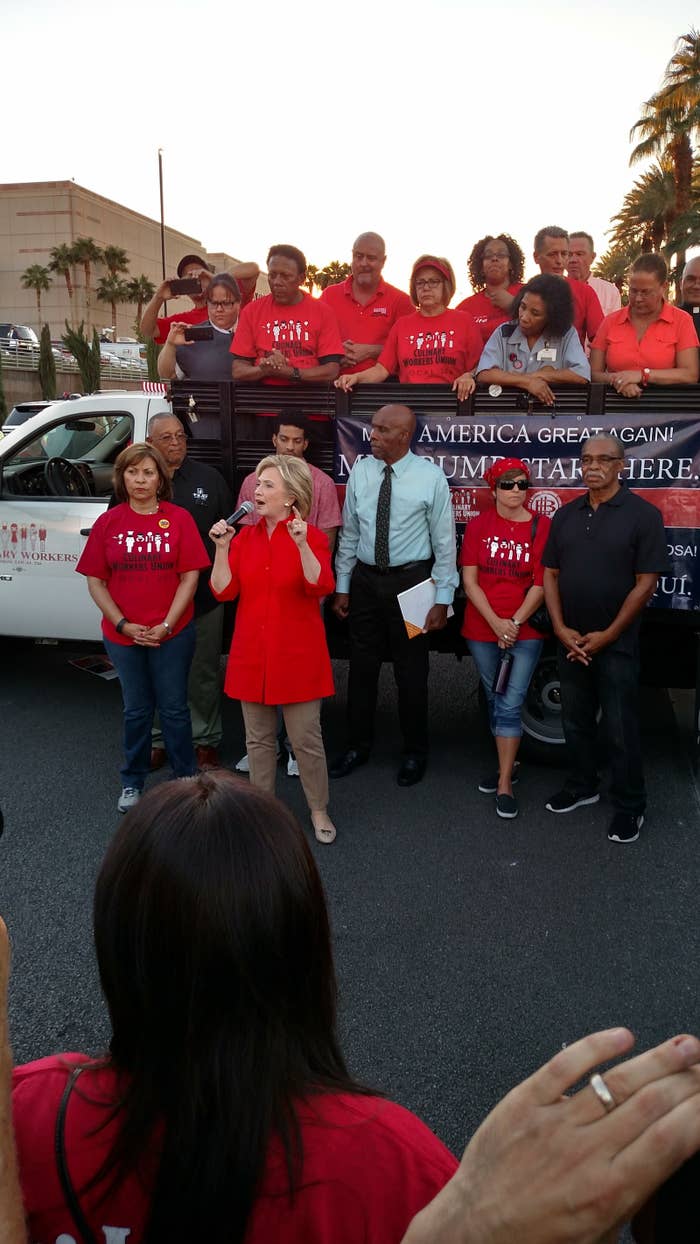 LAS VEGAS — Former Secretary of State Hillary Clinton told a large group of union picketers outside the hotel bearing Donald Trump's name here Monday that Trump's rhetoric on the presidential campaign trail is "unacceptable behavior."
"Some people think Mr. Trump is entertaining," Clinton said at a protest hosted by the Culinary Workers Local 226, which is locked in a contract battle with the Trump casino over wages and health care benefits. "But I don't think it's entertaining when somebody insults immigrants, insults women."
Clinton made a somewhat surprise appearance at the rally, with local press in Vegas getting word of her arrival shortly before she appeared at the rally. National press, in town for Tuesday's Democratic Party debate, eventually showed up too, and Clinton spoke before a slew of TV cameras.
She told the workers she was there to show "solidarity" with their cause and to push back on Trump.
"I think you have a right to organize, you have right to safe working conditions, you have a right to a living wage," she said. "And you have to say yes to all of that and you have to say no to efforts to prevent you from organizing to prevent you from having the kind of working conditions you deserve."
"And that means saying no to Donald Trump," she added.
The Culinary Workers union is among the most powerful organization in Nevada Democratic politics, representing tens of thousands of hospitality workers in a state where tourism is a major part of the economy. The battle over the union's endorsement was a bitter one, and a fight that Clinton ultimately lost to President Obama.
Clinton is not the first Democratic presidential candidate to visit the Culinary Workers at one of their protests at the Trump in the current presidential cycle. Former Maryland Gov. Martin O'Malley appeared at a similar rally in August, and has been in regular contact with the union ever since, according to his campaign.
The president of the Culinary Workers local 226, Geoconda Arguello Kline, told the crowd all the presidential candidates have been invited to appear at the union's rallies.
CORRECTION
The Trump building in Las Vegas is strictly a hotel complex. This story originally mischaracterized the nature of the building.