Has Obama Charmed Congress? Not Yet
Bread has been broken. But what about gridlock?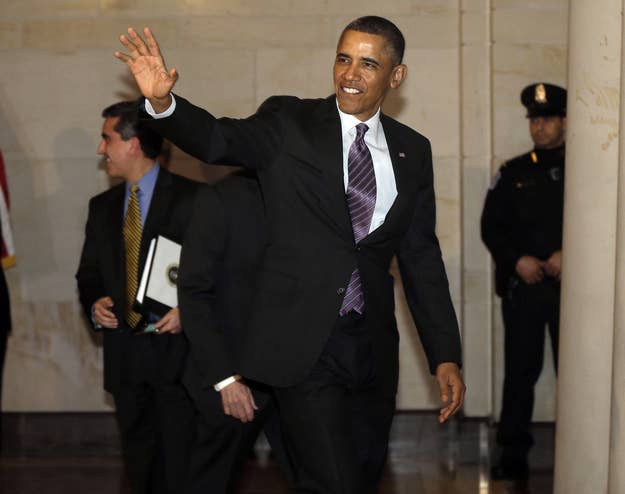 WASHINGTON, D.C. — The week-long presidential "charm offensive" is over. Did it work? On Capitol Hill and in the White House there are plenty of kind words being said about President Barack Obama's meetings with members of Congress on their home turf — but there's little early evidence that his outreach has loosened the gridlock that has turned the public off.
On both sides of Pennsylvania Ave., participants in the meetings told BuzzFeed they're just going to have to wait and see if face time with Obama has made any Republicans more amenable to supporting his legislative agenda.
"We're kind of in this dating phase right now," said Sen. Bob Corker (R-TN), who was one of the Republicans who joined Obama for dinner last week. He was also present when Obama visited the Senate GOP caucus Thursday. So far the conversations haven't resulted in a breakthrough on the fiscal matters gumming up the Capitol works, Corker suggested.
"I just want to know what the next steps are toward a real solution," he said.
At the White House, no one is declaring any victories yet. But senior administration officials are optimistic, noting that there are at least some Republicans now willing to talk about revenue as part of future fiscal deals. The officials say that Obama is also building a rapport that will help with other issues down the road, like immigration and gun control, where there are splits in the GOP. Those issues haven't taken center stage at the Congressional meetings, though.
"I don't remember those coming up, to be honest with you," said Rep. John Fleming (R-LA). He added, "I think what brought him to us was sequestration."
One strategist familiar with the immigration fight on Capitol Hill said that so far Obama's outreach has had "no impact" on the Hill debate.
Official statements from the White House still describe the bipartisan renaissance as something that will come later.
"The purpose here is to see – is to encourage bipartisan cooperation, to encourage a common-sense approach to the challenges that face us on budget issues as well as the other priorities that he believes we have as a nation. And those conversations will continue," Press Secretary Jay Carney told reporters at Thursday's briefing when asked if Obama's presence at the Hill lunches will be a "regular thing."
There may not be that much time to waste. Sen. Jerry Moran (R-Ks.) said if the president is going to build bridges, he better do it before the Hill's gaze shifts to the 2014 midterms.
"All of the big-picture items, the message was, there's a window of opportunity, your leadership matters, but if it's going to be effective it's probably this year, in this time frame, if we're going to make a difference," he said.