Gun Control Advocates Scramble For Votes As Capitol Pauses For Boston Bombing
With time running out for a deal, proponents hope extra time granted by attack will tilt the scales in their favor.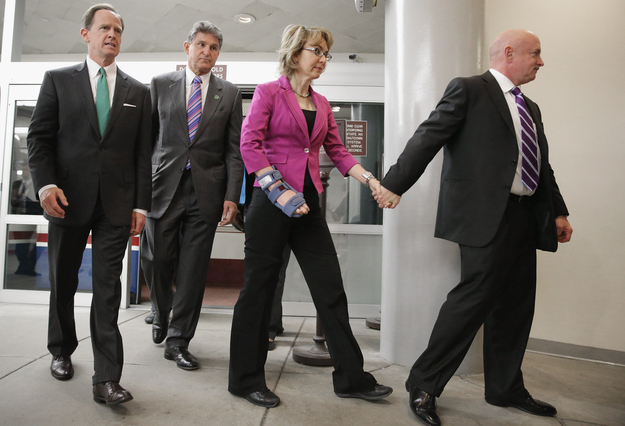 WASHINGTON — Gun control groups are hoping the pause in the legislative battle over new gun laws this week will give them time to round up the votes they need to win in the Senate.
In the hours leading up to news of the Boston attack, Washington was consumed with counting votes for the compromise background check bill proposed by Pennsylvania Republican Sen. Pat Toomey and West Virginia Democratic Sen. Joe Manchin. Even after the tragedy gripped the attention of the city and the nation, advocates on both sides of the issue were checking to see who had the edge. By the end of the day, it appeared the National Rifle Association and its allies did: Politico reported that the Toomey-Manchin deal was all but dead ahead of final votes scheduled for later this week.
The Boston attacks led gun control advocates to pause their public activities planned for Tuesday. But they also gave proponents extra time to sell the Toomey-Manchin bill to reticent conservatives. The National Rifle Association and some of its allies have opposed the Toomey-Manchin package and, proponents insist, are spinning false information about it to scare off Senators who might otherwise support it.
One person involved in pushing background check legislation told BuzzFeed that the political pause granted by Boston opened the door for gun control advocates to push back on NRA's spin — time, the person said, gun control groups can use for behind-the-scenes conversations they hope can turn the tide in their favor.
Mark Kelly, husband of former Arizona Rep. Gabrielle Giffords and a leader of a new SuperPAC set up to provide political cover for politicians who support gun control, told reporters Tuesday at a breakfast hosted by the Christian Science Monitor that if gun control proponents are going to win the short game in the Senate over the next few days, private conversations between lawmakers and policy advocates will be how it's done.
"Phone calls and meetings. A lot of them," Kelly told BuzzFeed when asked how the current predictions about the Senate bill will change. "I think the one-on-one meetings with the members, with Gabby, with me, especially with the Newtown families are critical to getting this passed. When you meet face to face with somebody who recently lost their six or seven year-old child from a man who unloaded 150 rounds in less than five minutes, it's difficult to look that person in the face and say, 'yeah we're not going to do anything about that.'"
Gun control supporters are quick to say they're not exploiting the events in Boston.
"That's just not where our heads are at," said Ladd Everitt, spokesperson for the Coalition to Stop Gun Violence. "When something this horrific happens, the world should come to a stop for awhile. I suspect in the next few days you will see many victims and survivors of gun violence (including those on our staff) reaching out to the survivors of this tragedy to offer them comfort and support."
Publicly, they've dialed back events. Everitt was scheduled to speak at rally planned for Tuesday in DC that featured the delivery of child coffins to NRA lobbyists. Organizers postponed that event, citing Boston as the reason.
Meanwhile, several prominent senators remain undecided. At a press conference Tuesday, Majority Leader Harry Reid said there's still plenty of momentum for background checks, though he acknowledged the sales job is not yet done.
"Am I saying it's all over with, done, we got the votes? No, but we certainly feel we have the wind at our back," Reid said.