Grassroots Obamacare Group Announces Massive Warchest
Enroll America has $27 million in the bank to help sell Obamacare. Despite the rollout problems, the group says its efforts are on track.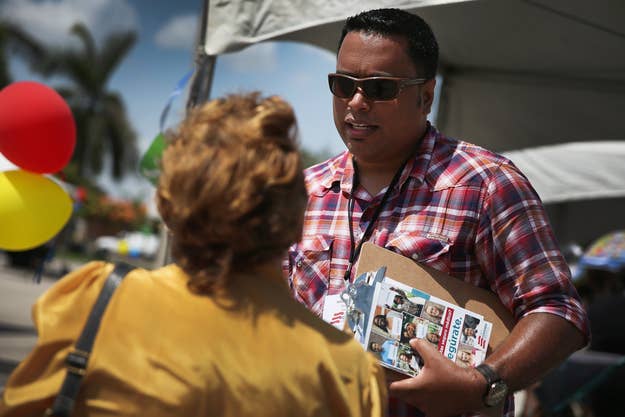 WASHINGTON — As the grassroots fight over Obamacare heats up — with groups battling to either convince people to sign up for health insurance or refuse to do so as an act of civil disobedience — one of the largest pro-Affordable Care Act groups announced a massive war chest Tuesday.
Leaders of Enroll America, a group launched in 2011 by a coalition of health care advocates, progressives and industry groups, told reporters on a conference call they've raised $27 million since March to fund their plan to educate uninsured Americans about their new options under Obamacare.
The messy rollout of Obamacare has made life harder for the grassroots army Obamacare supporters say will play a key role in enrolling more people in health insurance. But top Enroll America officials on the call said their efforts are on track.
"At our current rate of growth, we expect to have one-on-one conversations with more than 300,000 uninsured consumers in our 10 target states – that is a floor, not a ceiling," spokesperson Justin Nisly told BuzzFeed in an email after the call. "That is about 10% of the approximately 3 million that are expected to enroll during the first open enrollment period in those states."
Enroll America and other allied groups aren't the only ones beating the grassroots to spread their message about the Affordable Care Act. Generation Opportunity, a conservative group funded in part by the Koch fortune, is taking its "Opt Out" message to college campuses across the country. Generation Opportunity hopes to keep young people from buying health insurance under Obamacare. The health law relies on an insurance coverage mandate to cover the costs of expanded coverage, making the enrollment of the young and healthy key to the law's success.
As of last week, fewer than 50,000 people had enrolled through the federal exchanges, the Wall Street Journal reported Monday.
Despite the tough first month for the Affordable Care Act enrollment system, Enroll America officials said they've got plenty of time to win the grassroots fight over Obamacare. The group is kicking off a two week "Coverage Is Coming" program that will target uninsured populations at more than 1,000 sites across the country next month. Obama administration officials have repeatedly said they expect the HealthCare.gov website to be running smoothly by the end of November. Enroll America officials see the period as an opportunity.
"We see those two weeks in early December as a moment, as an organizing opportunity. And something that we need to take advantage of," said Anne Filipic, president of Enroll America. "But it's one step in the process of our campaign."