GOP Senator Calls White House EPA Pick "Unresponsive" After She Answers Hundreds Of His Questions
David Vitter says Gina McCarthy isn't responding to his questions. But she's answered hundreds he submitted in writing.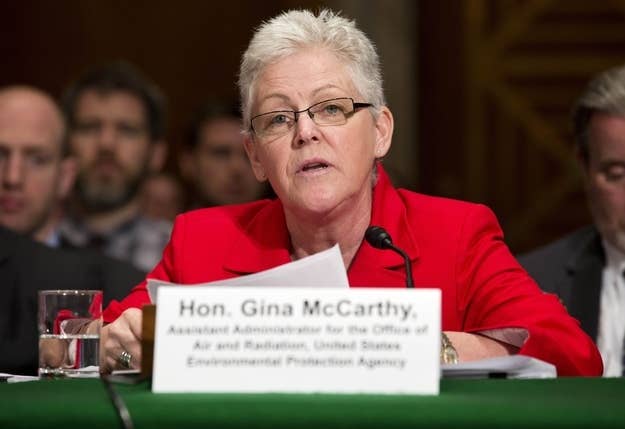 WASHINGTON — Gina McCarthy has answered more than written 600 written questions from Republican Sen. David Vitter since she was nominated by President Obama to head the EPA. Vitter's office, however, has called her "unresponsive."
Mirroring the playbook they used when Jack Lew was appointed to head the Treasury Dept., Republicans have bombarded McCarthy with more than 1,000 written questions (if you include the subparts) about her views. That's significantly more than any other EPA nominee has faced in recent memory. Lisa Jackson, Obama's first head of the EPA, was asked just 157 written questions.
Vitter, a Senator from Louisiana, has asked the vast majority of those questions. He's asked her 411 written questions, with 242 subparts. She's provided answers to them all, but on Monday, Vitter's office said McCarthy had been "unresponsive" (and published all 123 pages of her answers to Vitter online.)
Vitter's office quibbles with the idea that he's asked a lot of questions of Obama's EPA nominee. McCarthy served as a high-ranking official in Jackson's EPA, and Republicans say that means she has more questions to answer than past nominees.
"She's been assistant administrator for four years," Vitter spokesperson Luke Bolar told BuzzFeed. "She's been very involved."
What makes McCarthy unresponsive, according to Republicans, is the way she's answered the questions which they call evasive.
But Democrats say Vitter is playing politics by submitting the high volume of questions and then turning around and claiming that McCarthy is not responding to Republican concerns.
As with most political stories in Washington, there's debate over the meaning of words on this one. Vitter's office wouldn't say that 411 written questions is "a lot," while Democrats call it unprecedented, especially when the subquestions are included.
A source close to Democrats in the Senate sent over this chart comparing the volume of questions McCarthy has faced, to the EPA nominees that came before her from both the Obama and George W. Bush administrations.