Gabby Giffords's Husband Calls Out Arizona Senator For Opposing Gun Control
Mark Kelly says despite friendship with Jeff Flake, he'll work to kick him out of the Senate if he votes against background checks.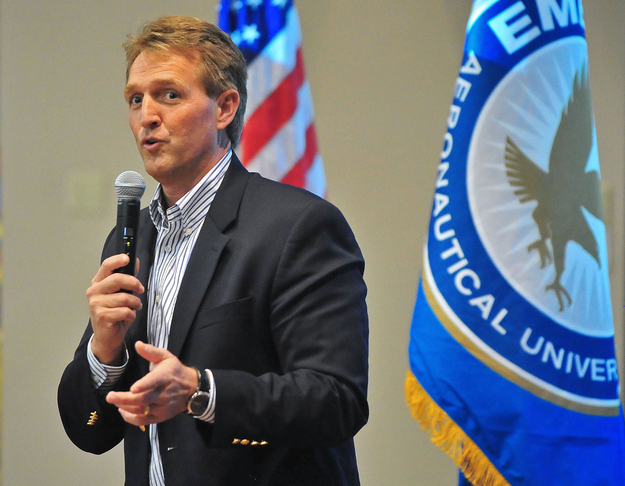 WASHINGTON — The debate over gun control got personal Tuesday when Mark Kelly, the husband of former Arizona Rep. Gabrielle Giffords, said he would use Giffords's new super PAC to challenge her personal friend, Republican Sen. Jeff Flake, if he votes against background checks.
Kelly said he still hopes to convince Flake, an Arizona Republican, to back the compromise gun control bill currently making its way through the Senate. But Flake said he opposed the bill on his Facebook page Monday night, a stance that Kelly clearly took personally.
"There are a lot of Senators who are just looking for a reason to get to no," Kelly told reporters at a breakfast event sponsored by the Christian Science Monitor. "And I experienced this personally last night when I was shown the Facebook posting of Sen. Jeff Flake of Arizona, Gabby's good friend."
Kelly accused Flake of putting personal political ambition ahead of preventing future incidents like the 2011 shooting that left his wife gravely injured and six of her constituents dead.
"He intends to vote no on this legislation, and he's got some reasons, and the reasons that he cites on his Facebook post…it appears to me that maybe he actually hasn't read the bill. Because his concern are clearly addressed in the piece of legislation," Kelly said. "So what's going on here? Well I imagine with Sen. Flake and probably another 10 or more Senators that we hoped to get to yes, they're looking for a reason to get to no because of the influence of the gun lobby and how that might affect their next election."
Kelly said he'll try to change Flake's mind after another face-to-face meeting with the Senator later Tuesday. But he called out Flake for posting the message to Facebook just a day before he, Giffords, and Kelly are scheduled to attend the dedication of a room in the Capitol named to honor a Giffords House staffer killed in the 2011 shooting.
"His timing is not ideal," Kelly said.
Asked if he'll use his PAC — which is designed to bolster gun control proponents by offering them the financial and political resources currently provided to gun rights supporters by the National Rifle Association — to unseat Flake, Kelly said he would if he has to.
"Friendship is one thing, saving people's lives, especially first graders, is another," he said.
Update:
Flake responded to Kelly in a statement sent to BuzzFeed by his Senate office.
"I respect Gabby and Mark and their strong viewpoints on this issue," he said. Flake is scheduled to attend the Zimmerman room dedication Tuesday, his office confirmed.