Gabby Giffords PAC To Run Thank You Ads For Senators That Stood Up To The NRA
Collins, Hagan, Landrieu and McCain to feel the love from Americans For Responsible Solutions.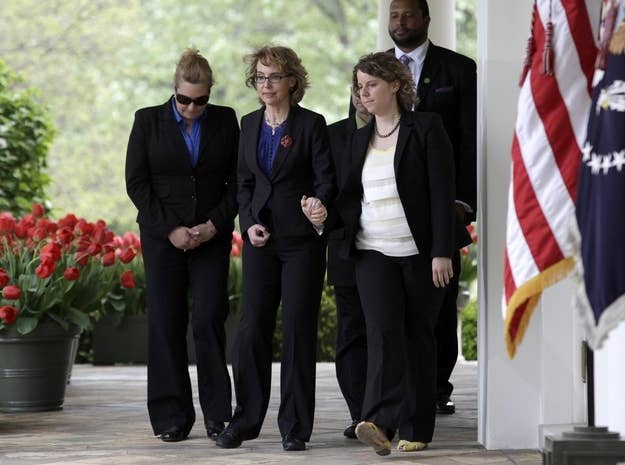 WASHINGTON — With the political battle on gun control lost in DC, former Rep. Gabby Giffords's Super PAC is turning its attention to fighting for expanded background checks on the campaign trail.
To kick off that effort, Giffords' husband Mark Kelly told reporters Thursday that the group will put TV ads on the air thanking several moderate Democrats in tough 2014 reelection bids, as well as two Republicans who opposed the majority of their party and voted for gun control legislation Wednesday.
"We're going to go up with ads thanking those Senators who listened to their consituents, listened to law enforcement, those folks that showed some backbone in the face of relentless pressure and fearmondering from the gun lobby," Kelly said.
The first round of ads will thank Democratic Sens. Kay Hagan of North Carolina and Mary Landrieu of Louisiana, two top targets for Republicans in the next cycle. Ads will also thank Republican Sens. John McCain of Arizona and Susan Collins of Maine, who voted for the compromise background check legislation opposed by most in their caucus as well as the NRA.
Later ads, Kelly said, will thank other Senators. There are also plans to run ads condemning Senators that voted the other way.
Now that the legislative fight in Congress is effectively over, groups like Americans For Responsible Solutions (the Giffords PAC) and Mayors Against Illegal Guns (the organization founded by Mike Bloomberg) are shifting their focus to winning support for gun control at the ballot box. By flexing its advertising muscles early, Giffords PAC is hoping to keep guns in the spotlight as the nation's attention shifts toward campaign season next year.