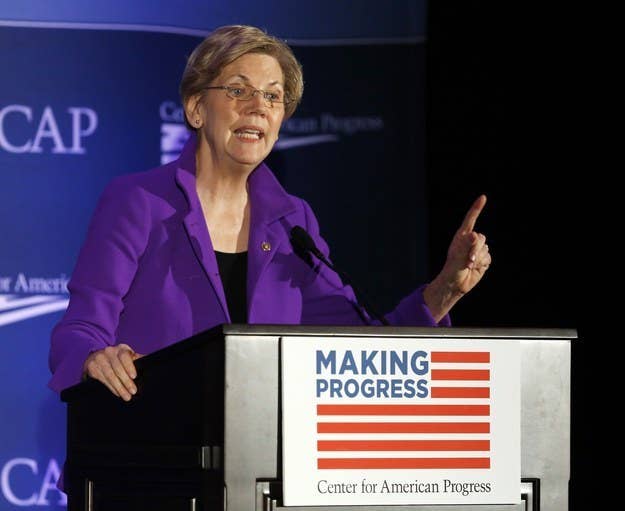 WASHINGTON — On Monday, Democratic women in Washington rallied around Sen. Elizabeth Warren after the Massachusetts progressive was the subject of a snarky, anonymous comment that critics said had "rapey" overtones. The reaction was swift and indicative of the rapid response from Democratic women and their allies that has defined the War On Women messaging effort.
Except this time, the perpetrator of the attack was also a Democrat, an anonymous source who speculated about a potential Warren presidential run.
"A Dem source just summed it up neatly," the Washington Post's Phil Rucker tweeted. "'Elizabeth Warren's mouth says no, but her eyes say yes, yes, yes.'"
Democrats broke the partisan code of omerta to go after their fellow Democrat on the record.
"Do better, Dem source," tweeted Jess McIntosh, communications director at EMILY's List.
The quote was the kind of thing Democrats relished in previous election cycles, pivoting off cringeworthy quotes from Republicans to rally women voters to their cause under the ever-present War On Women banner. Republicans made a concerted effort to fix their rhetoric in 2014. There were some cringeworthy moments, but by and large the Republican effort worked: There were no Todd Akin-style comments Democrats could use on the national level to drive a wedge between the Republican Party and women.
Democratic women are still facing down the kinds of moments that Democratic flacks would love if they were caused by Republicans. But since the outcome of the midterm election became clear, it's been Democrats providing one cringeworthy moment after another when it comes to women in politics.
Just after the election, Democrats ensnared themselves in a gender-based controversy that might have sunk a Republican politician. As part of an internal post-election struggle over control of the Democratic House caucus, prominent Democrats — including House Democratic leader Nancy Pelosi — voted to deny a caucus proxy vote to Illinois Rep. Tammy Duckworth, who couldn't make it to Washington due to the late stages of her pregnancy.
Women's rights advocates were upset, and also confused. Terry O'Neill, president of the National Organization for Women, noted that Democrats are leading the policy fight for legislation that would bar employers from refusing to accommodate pregnancies.
"It's completely in my view outrageous that the Democratic caucus wouldn't make an accommodation for Tammy Duckworth," O'Neill told BuzzFeed News. "That is an issue of public policy that is extremely important. You don't always get to time your pregnancy perfectly to account for things, and pregnancy is not like any other condition. It needs to be treated with the respect that it deserves."
"It's odd," she said, recalling the Duckworth episode as well as an internal Democratic fight over child care access at the 2012 Democratic National Convention in Charlotte. "I don't think that a single Republican has signed on to the Pregnant Worker's Fairness Act yet! So, public policy-wise, Democrats are doing well. But they don't always."
O'Neill joined the critics of the anonymous quote about Warren too. She praised the Democratic Party for endorsing what she called a pro-woman policy agenda, but said the anonymous quote, the Duckworth episode and other gender-based attacks on Democratic women from other Democrats show the party isn't yet fully evolved.
Just before the election, when the upcoming drubbing was already clear in the mind of Democratic strategists, Democratic National Committee chair and Florida Rep. Debbie Wasserman Schultz came under fire from members of her party who said she mismanaged the DNC, making an uphill midterm climb for Democrats even steeper. Among their complaints: Wasserman Schultz, Politico reported, requested DNC funds to pay for the many expensive outfits required of a woman expected to speak publicly and hobnob with the wealthy like a DNC chair is. (Wasserman Schultz denied the allegation and said that using funds for clothes would be "inappropriate.")
Women's groups have rallied against reporting the details of a woman politician's outfit in a way that would generally not be used when writing about a man, and there was widespread outrage from women's advocates last year when a reporter noted that Federal Reserve Chair Janet Yellin wore the same outfit twice. While much of this criticism emerged in the years after 2008 Republican vice presidential nominee Sarah Palin faced round after round of liberal attacks for expensive clothing purchased for her by the McCain campaign, there is little doubt Democrats today would come after a Republican who criticized a Democratic rival for complaining about the costs of clothing required for her job.
"On substance, the Democrats are, in fact, doing a better job of promoting public policy that's good for women," O'Neill said. "That doesn't mean that they have suddenly become a truly multicultural, feminist organization."
Women's groups, empowered by the War On Women branding that put them at front-and-center in the Democratic party in recent elections, flexed their rhetorical muscles against the anonymous Democrat snarking about Warren. The Senator's office didn't respond to a request for comment on the quote, or the controversy it kicked up. Democratic-allied women's groups, meanwhile, went after the unnamed source as though the quoted Democrat were, well, a Republican man.
"That quote is shameful. Joking about sexual assault is wrong. Always," Shaunna Thomas, president of the progressive women's advocacy group UltraViolet, told BuzzFeed News. "If that 'source' had half the courage of the millions of rape survivors who have come out and told their stories, they would publicly out themselves and apologize for their truly outrageous statement."
Ilyse Hogue, president of NARAL Pro-Choice America and a longtime progressive women's advocate, said the Democratic source should consider a career change.
"Anyone who uses references to sexual assault to make a political point has no business being in politics," she said in a statement. "Whoever this so-called 'Democratic source' is should take a long look in the mirror and question whether getting quoted in the Washington Post is more important than having any moral compass. That quote is nothing short of shameful and has no place in our national debate."