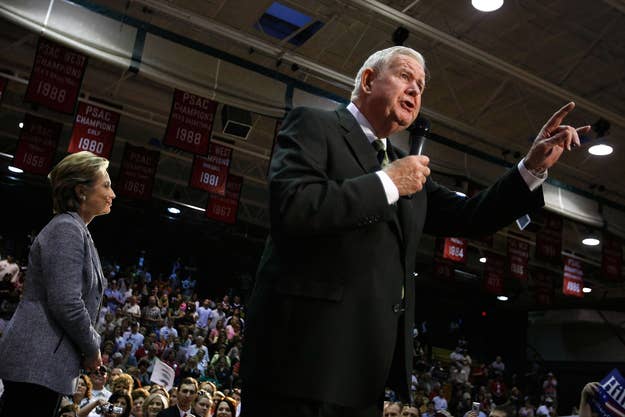 WASHINGTON — A former top aide to the late Rep. John Murtha — a conservative Democratic icon best known at the end of his career for his strident opposition to expanding the war in Iraq — is expected in the coming days to announce a bid to take back Murtha's seat for the Democrats in 2014.
John Hugya, a former chief of staff to Murtha, will soon announce his campaign for the Pennsylvania congressional seat Murtha occupied from 1974 to his death in 2010, a spokesman said. The seat is currently held by Republican Rep. Keith Rothfus. Political observers in Washington generally consider the seat a tough one for Democrats to win.
Hugya brings many of the same qualities Murtha relied on to win the western Pennsylvania district repeatedly, however. Like Murtha, Hugya served in the Marines, retiring as a Colonel. The 79 year-old has a blue collar background, too having spent years working in the Pennsylvania steel industry.
While he was a close associate of Murtha's for many years during Murtha's time in Congress, it's not clear how closely Hugya's political stances match that of his his former boss. Michael Duga, Hugya's campaign spokesperson said more details of Hugya's political stances on issues like military action in Syria will emerge in the coming weeks.
"Col. Hugya is running because he believes the people of the 12th District deserve better," Duga told BuzzFeed. "Col. Hugya holds Chairman Murtha in the highest regard. He'll run his own race, and as a former Marine Colonel he is very much his own man."
Hugya's experience in the district and in politics could make him a formidable candidate, even if the race is an uphill climb for a Democrat. But in addition to his age, which could be made an issue on the campaign trail, Hugya carries some political baggage from his time with Murtha. In 2008, Hugya made headlines when he used $2,000 in Murtha campaign cash to purchase a firearm for himself at a National Rifle Association charity event. Hugya disclosed the purchase as a gift to him from the campaign on a Congressional form and paid taxes on it, leading to questions about whether he violated House ethics rules. Hugya and the Murtha campaign denied any wrongdoing at the time.