Former Obama Official: Rose Garden Ceremony Was To Tell Bergdahl's Story
"I'm positive everyone knew that it was all going to come out. But what's the alternative?" says former White House national security spokesperson Tommy Vietor.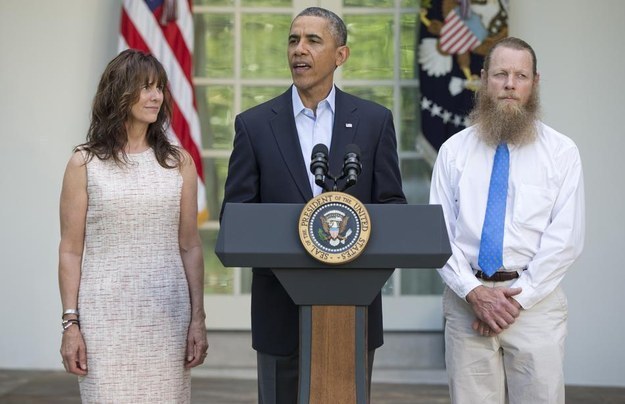 WASHINGTON — On Saturday, President Obama stood with the parents of Sgt. Bowe Bergdahl in the White House Rose Garden — a voluntary media event — to announce the deal that exchanged five Taliban detainees for Bergdahl's release.
Days later, that feel-good event stands in contrast to the deal's reception, with reports from soldiers he served with that Bergdahl may have been a deserter, and lawmakers demanding to know why the administration did not notify Congress of the deal in advance.
Tommy Vietor, one of Obama's former top aides, said Tuesday the goal of Saturday's event was to get in front of the story and take a moment to reflect on Bergdahl's years in Taliban custody before the issue could be politicized.
"What they were trying to do was tell the story before it devolved into partisan attacks," said Vietor, Obama's former National Security Council spokesperson. "To tell a story about who Bowe is, what he's endured, and what his family's endured."
Saturday's White House event with Bergdahl's family was about as high-profile as events get. Networks broke into programming and the White House got the time to make its case. Reporters traveling with the president said Tuesday that the White House didn't expect the immediate criticisms of the Bergdahl swap that began before Obama had left the lectern.
Vietor said administration officials expected the heat to come, but he said the degree of the attacks on Bergdahl and his family before they have had a chance to speak was a surprise.
"I'm positive everyone knew that it was all going to come out," he said. "But what's the alternative? Are we going to preemptively sentence this kid to rot in in a Taliban jail?"
Vietor said veterans who served with Bergdahl have "every right" to speak about their experiences with Bergdahl and criticize him if they want. But Vietor took exception to attacks on Bergdahl's father's beard and his efforts to learn Pashto in an attempt to communicate with his son.
"It's surprising that people would go there," he said.
The White House did not respond to a request for comment on the circumstances behind Saturday's event or how it was organized.
Vietor echoed the defense of Bergdahl's transfer voiced by many in the administration Tuesday — Obama included.
At a press conference in Warsaw, Obama said the military will investigate the circumstances of Bergdahl's Taliban detention now that he's headed back to American soil. But returning any American service member from the theatre of combat is the first duty of military leaders, Obama said.
"Whatever the circumstances may turn out to be, we still get an American soldier back if he is held in captivity. Period. Full stop," the president said. "We don't condition that."
The administration appears to be trying to find its footing as the Bergdahl swap criticisms continue. A top White House official apologized to some senior congressional leaders for not informing them about the Bergdahl deal before it was announced. And Obama and the Army have said there will be an investigation into the circumstances behind Bergdahl's capture away from an American military base. That could signal a shift from the weekend, when a Pentagon source told the New York Times that "the Army would probably not be punishing the sergeant for any violations of rules."
Vietor said Bergdahl should have a chance to tell his story before facing blanket condemnations.
"This guy was in captivity for five years … we should be celebrating his release," he said. "It's a good thing for him, it's a good thing for the country, and it's a good thing for his family."