Few Signs Of Sanders On The Attack In New Hampshire
Sanders' campaign has been more critical of Hillary Clinton in front of a national audience in recent weeks, but Sanders himself rarely mentions his opponent on the campaign trail.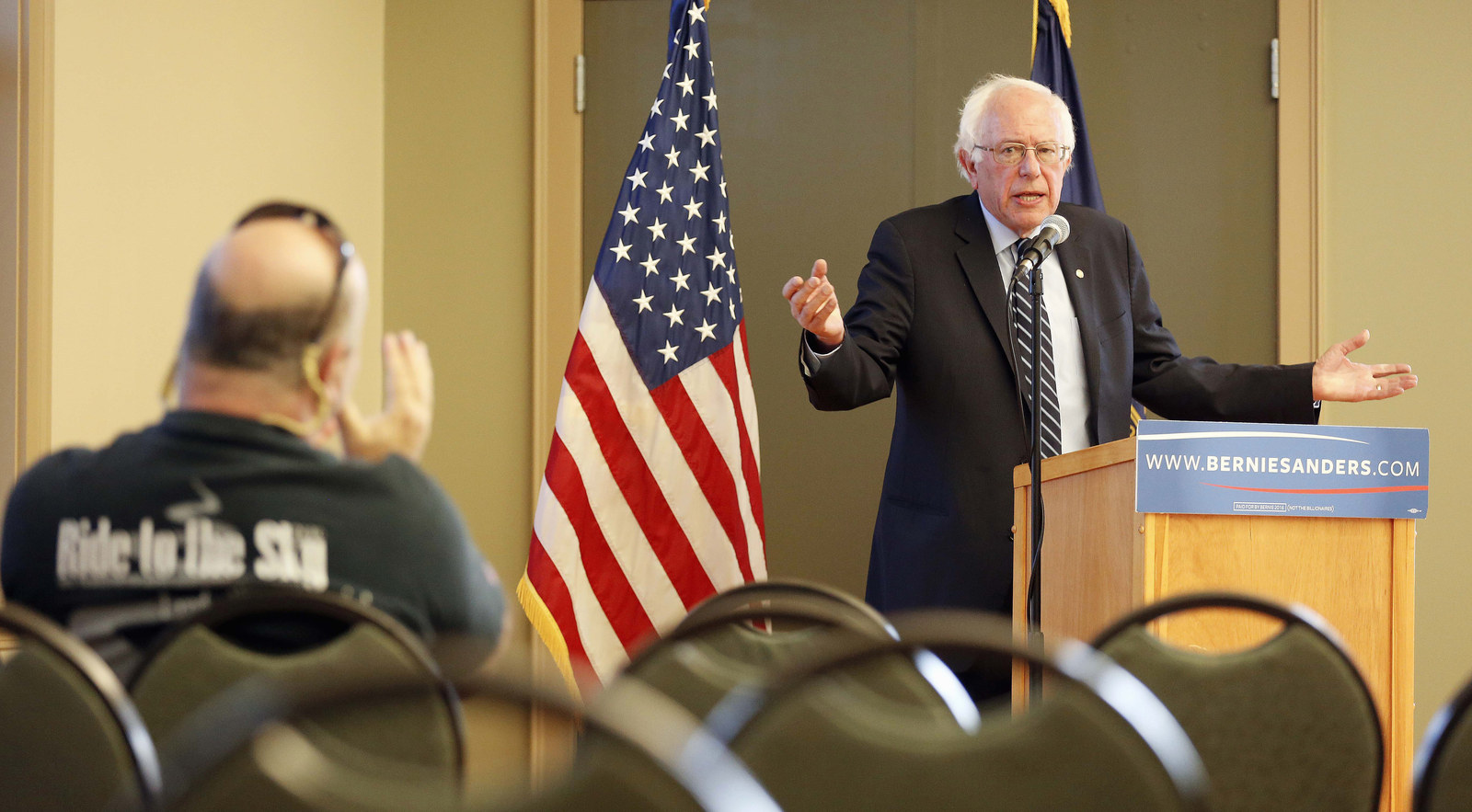 NEW HAMPSHIRE — In seven public appearances across New Hampshire this weekend, Bernie Sanders said Hillary Clinton's name just three times. And one was only because someone asked about her.
Sanders — and more specifically, his campaign — has been more critical of Clinton in front of a national audience in recent weeks, framing the independent senator from Vermont as "an honest leader" in a new television spot, and talking sharply about his consistently liberal record. But on the trail with Sanders in New Hampshire, the differences between now and two months ago were so subtle as to be virtually imperceptible — a Sanders town hall, like the one more than 1,000 people attended in Lebanon early Halloween night, sounds exactly like a Sanders town hall has always sounded.
Sanders didn't say "Clinton" in Lebanon. He didn't say it at another packed town hall in Warner hours earlier. He didn't say it a similar event Friday night, when Sanders was dragging after a day of campaigning following a night of Senate votes in Washington that didn't end until three in the morning. And his implicit, unnamed contrasts with Clinton resembled ones he's made all year — rather than the edge displayed at the Iowa Jefferson-Jackson dinner.
He did go after Clinton at what a senior aide called a "retail" event at a senior center in Manchester Friday afternoon, where Sanders mingled with seniors briefly and spoke to maybe 40 of them about entitlement programs. The event was notable for the empty seats (the aide said the event was run by the senior center, not the campaign) and a wonky jab at the Democratic frontrunner by Sanders. He described his plan to extend and expand Social Security by eliminating the cap on income where taxes are no longer paid into the system. Clinton has no such plan, he said, and he said he's the only candidate promising to expand benefits for everyone.
"Secretary Clinton was here the other day, and I think she and I have a strong disagreement on this," he told the seniors.
Later in the day, during a stop at his Nashua HQ, Sanders offered up his second mention of Clinton. Sanders announced his campaign has raised money from more than 750,000 individual donors (average donation "about $30," he said) and presented that as a clear contrast with Clinton's big money, big donor fundraising machine.
"We will be outspent in terms of money, and we don't have a super PAC. We have made the decision not to have a super PAC for the very simple reason that this campaign does not represent the interests of corporate America. We don't want their money, we don't need their money and we're going to win without their money," Sanders said. "So our path in this campaign is much harder than virtually all the other campaigns, including Secretary Clinton's campaign, which does have a super PAC. Because when you have a super PAC what you can do is sit down in a room with a handful of very wealthy people and then you walk out with millions of dollars."
Sanders talks about being the only major candidate that doesn't have a super PAC a lot, but he usually doesn't mention Clinton by name when he does it. This time he did. After that, he went into a truncated version of his stump speech. No calls for contrasts, no mentions of Clinton. It seemed like an aside rather than the plan.
The third Clinton mention came at a press conference outside the International Brotherhood of Electrical Workers Local 490 hall in Concord. The union local endorsed Sanders last week, and the event was a chance to show off the endorsement to reporters. Sanders didn't mention Clinton until the AP asked him if the race between the two contenders for the Democratic nomination have become "too personal."
"I do, and I think that is unfortunate," he said. He went on to say that he had not said anything sexist when he said people should "stop all the shouting" about guns several times over the past few weeks, a line Clinton ran with when she said he was belittling her.
And, really, that was it. Three mentions of Clinton, at three events designed not really to win over large numbers of voters, but instead to speak more to the national press.
The town halls, where Sanders packs in large crowds and talks to them for close to two hours — one remarkable hour of stump speech, and then a question-and-answer period — were exactly the same this weekend as they have been for months. There was more mention of the "establishment," which is a clear reference to Clinton, but it was short and was more about how Sanders can defeat it rather than attacking it.
Even when Sanders was directly asked about guns at the town halls, the issue that led to the dustiest Clinton-Sanders dustup, he did not push back on Clinton very hard.
"What I have said, and sometimes my words have been mischaracterized, is that as a nation we have got to stop shouting at each other on this issue," he told a voter in Warner.
At the town halls there was really no sign of the changing nature of the race, as Sanders becomes a candidate with an expanding staff, a pollster for the first time and, as of Sunday, a $2 million TV ad buy in Iowa and New Hampshire.
No sign of the speech Sanders delivered at Jefferson-Jackson dinner in Iowa, where he leaned into the contrasts with Clinton, pointedly pointing to progressive positions he held publicly before Clinton and, the clear suggestion goes, will continue to hold regardless of the shifting political winds.
No sign either of TV candidate Sanders who told CNN last week his campaign will "very forcefully express our disagreements with Secretary Clinton on Wall Street, on the USA Patriot Act, on the death penalty, on issues where we disagree."
The Sanders campaign style that boosted his insurgent movement campaign to legitimate second place Democratic nomination contender is not going away in other words. Sanders aides have said from the he's running the race he wants to run, and they all emphasize that they'd rather be talking about Sanders on the issues than Clinton. Jeff Weaver, Sanders campaign manager, told BuzzFeed News last week the campaign wants to get back to its original tone when it comes to Clinton, but it can't, he said, so long as she's taking shots at Sanders.
But in New Hampshire, the decision appeared to have been made. Sanders is going to talk to the national press about Clinton and to the voters about Sanders.