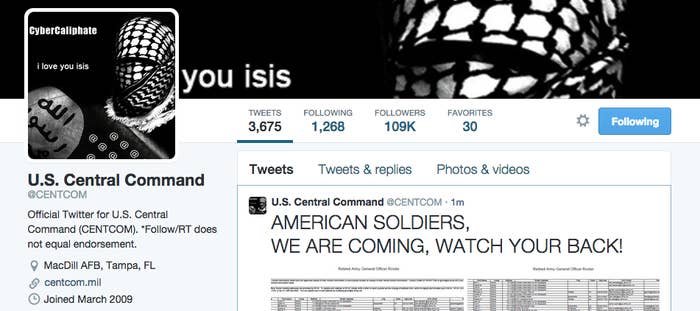 WASHINGTON — Within minutes of the first reports that CENTCOM's social media feeds had been taken over by hackers promoting ISIS, the General Services Administration was ordering a government-wide social media audit.
"Immediately after the hack was noticed, GSA began widespread distribution of guidance for preparing for and responding to social media hacking, an instructional video on how to increase security with two-step verification, and asked more than 800 federal managers in the SocialGov Community to conduct independent audits of their programs and confirm the audits with their leadership," GSA spokesperson
Jackeline Stewart told BuzzFeed News.
GSA will host a webinar for government agencies Thursday aimed at teaching them "how to prepare/respond to social media hacks."
The CENTCOM hack was doubly embarrassing to the Obama administration, which was in the middle of a presidential speech on cybersecurity when the hack first appeared. The Pentagon, which has been conducting a military campaign against ISIS, saw CENTCOM's social media channels converted into a propaganda tool for the enemy. The hack didn't appear to do much real damage, according to the Pentagon. A Defense spokesperson told reporters the hack was a "cyber prank" that didn't include any real compromising of classified data.
For the rest of the federal government, the hack was an opportunity to re-evaluate social media protocols GSA has been trying to impose government-wide for years. GSA's DigitalGov initiative — a portal site for government offices that use digital tools and social media — reposted anti-hacking guidelines and began tweeting about the hack shortly after it was discovered.
CENTCOM, like many federal agencies, is not verified on Twitter. The lack of the signature blue checkmark raised eyebrows as news of the CENTCOM hack flew around social media. A representative for the company did not respond on the record to questions about CENTCOM's verification status, and the Pentagon did not immediately respond to a request for comment.